Back to Home Page
Democratic People's Republic of Korea
Democratic Republic of the Congo
Lao People's Democratic Republic
Saint Vincent and the Grenadines
United Republic of Tanzania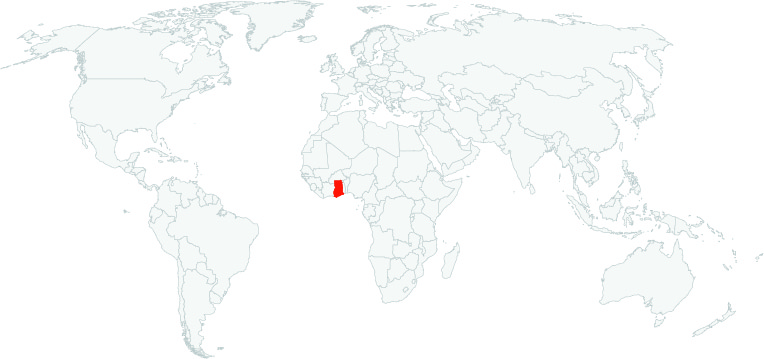 Log Export Restriction
Yes
Other Timber Export Restrictions
Yes
Legality Risks
Click for

details on legality risks
Ghana was one of the first countries to have signed a Voluntary Partnership Agreement (VPA) with the European Union (EU) in 2009. Thirteen years later, Ghana is poised to become the first country in Africa to issue Forest Law Enforcement, Governance and Trade (FLEGT) timber licenses, thereby enabling all its licensed timber products to automatically meet EU Timber Regulation (EUTR) legality requirements, facilitating their entry into the EU market. While Ghana has made significant efforts to develop a national system to track and verify legality and control illegal timber imported into the country, a December 2020 independent assessment of all aspects of Ghana's licensing system concluded that the system was not ready for FLEGT licensing, and some corrective actions were required.
Ghana will begin issuing FLEGT licenses when the timber legality assurance system has been successfully tested, and when Ghana and the EU are satisfied that it functions as described in the VPA. In Europe, a FLEGT licence denotes complete compliance with the EUTR for European importers, however, a FLEGT licence may not in and of itself guarantee compliance with timber import regulations in other jurisdictions, such as the U.S. Lacey Act in the United States. This dashboard summarizes currently available information on the legality risks associated with sourcing timber from Ghana.
Ghana is in the process of developing a mandatory system to verify the legality of timber production and trade and is expected to become the first African nation to issue Forest Law Enforcement Governance and Trade (FLEGT) licenses.

Illegal logging is reportedly declining but the illegal harvest and trade, particularly of high value species, continues to be reported.

 

NGO reports have also documented concerns related to the illegal harvest and trade in kosso mainly destined for China and Southeast Asian markets even though there is a government directive banning the harvest of kosso.

The illegal trade in high value species is reportedly facilitated by hierarchical corruption and weak enforcement of forest laws.

Enforcement is improving with on the ground audits suggesting high levels of legal compliance by logging companies.

 
Read more by downloading the Ghana Timber Legality Risk Dashboard here.
Latest Updates
Click for

latest news from Ghana
Publications
Click for

publications related to Ghana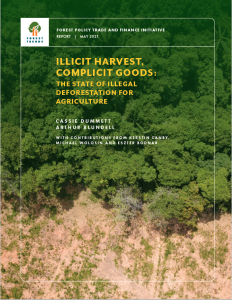 While subsistence agriculture and logging still contribute to deforestation, commercial-scale agricultural expansion is now recognized as by far the single largest driver of deforestation worldwide and thus also of greenhouse gas emissions from land-use change. Several initiatives have quantified how much and where deforestation is driven by commercial agriculture, and even how much of this […]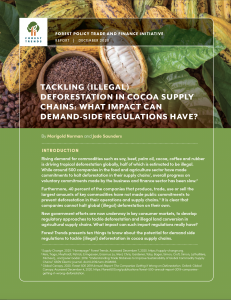 Rising demand for commodities such as soy, beef, palm oil, cocoa, coffee, and rubber is driving tropical deforestation globally, half of which is estimated to be illegal. Governments in the UK, EU, and the USA are now aiming to develop regulatory approaches to ensure imported agricultural commodities are not being sourced from deforested lands, or at[…]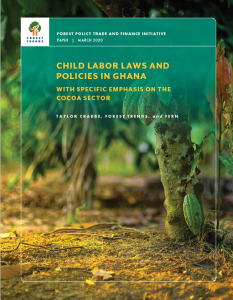 This report, by Ghanaian Law Firm Taylor Crabbe, details the legislative and institutional framework for the protection of human and labor rights, and specifically child labor, in Ghana. It concludes that there is an elaborate existing legislative and institutional framework for the protection of labor and human rights in Ghana, including detailed laws and policies […]
Key Resources
Click here for a collection of Forest Trends publications related to IDAT Risk, including the full set of Timber Legality Risk Country Dashboards.
Methodology
Click here to access the Global Illegal Logging and Associated Trade (ILAT) Risk assessment tool and to download the Forest Trends User Guide describing the functionality of the ILAT Risk Data Tool.
Click here to access the Cattle Data Tool.
Export Restrictions
Click here to download a database of forest policy export restrictions.