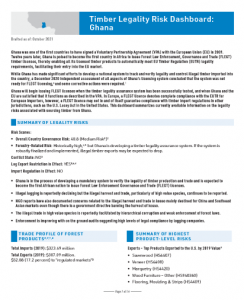 By Forest Trends
View Publication
Ghana was one of the first countries to have signed a Voluntary Partnership Agreement (VPA) with the European Union (EU) in 2009. Twelve years later, Ghana is poised to become the first country in Africa to issue Forest Law Enforcement, Governance and Trade (FLEGT) timber licenses, thereby enabling all its licensed timber products to automatically meet EU Timber Regulation (EUTR) legality requirements, facilitating their entry into the EU market.
While Ghana has made significant efforts to develop a national system to track and verify legality and control illegal timber imported into the country, a December 2020 independent assessment of all aspects of Ghana's licensing system concluded that the system was not ready for FLEGT licensing, and some corrective actions were required.1
Ghana will begin issuing FLEGT licenses when the timber legality assurance system has been successfully tested, and when Ghana and the EU are satisfied that it functions as described in the VPA. In Europe, a FLEGT licence denotes complete compliance with the EUTR for European importers, however, a FLEGT licence may not in and of itself guarantee compliance with timber import regulations in other jurisdictions, such as the U.S. Lacey Act in the United States. This dashboard summarizes currently available information on the legality risks associated with sourcing timber from Ghana.