| | | | |
| --- | --- | --- | --- |
| MacArthur Foundation Award for Creative and Effective Institutions | Schwab Foundation Social Entrepreneur | Skoll Foundation Award for Social Entrepreneurship | US Forest Service Chief's Global Stewardship Award |
Our mission is to drive innovation in environmental finance to sustain resilient ecosystems and communities.
For over two decades, Forest Trends has pioneered the idea that creating economic value in our forests and natural ecosystems is one of the most powerful incentives for sustaining them.   
Nature-based solutions are now widely recognized as an essential part of the solution for climate mitigation and resilience. But society needs to move faster to invest in the "natural infrastructure" of the planet, or we risk hitting climatic tipping points that put Paris Agreement goals out of reach.   
By 2030, we want global economic and policy forces aligned with the essential requirements for resilient ecosystems and communities:   
1) Conserving and expanding healthy ecosystems;   
2) Restoring imperiled ecosystems;   
3) Sustainable production; and   
4) Upholding the rights and livelihoods of indigenous peoples and other local stewards of nature.  
We believe this decade will be decisive to take action for planetary health and climate stability.  
Through our work, Forest Trends has demonstrated that the preservation of natural assets yields much greater long-term economic and societal benefits than the economic activities that damage these natural assets for short-term profit.
Read our Strategic Plan to learn more about how Forest Trends applies these approaches in everything we do. You can also explore our history here, and learn how our eight initiatives function together to create an economy that works for a healthy planet, rather than at its expense.
How We Work
How do we make our vision for 2030 a reality? We have identified four overarching strategic objectives. These describe how Forest Trends will contribute to our global vision.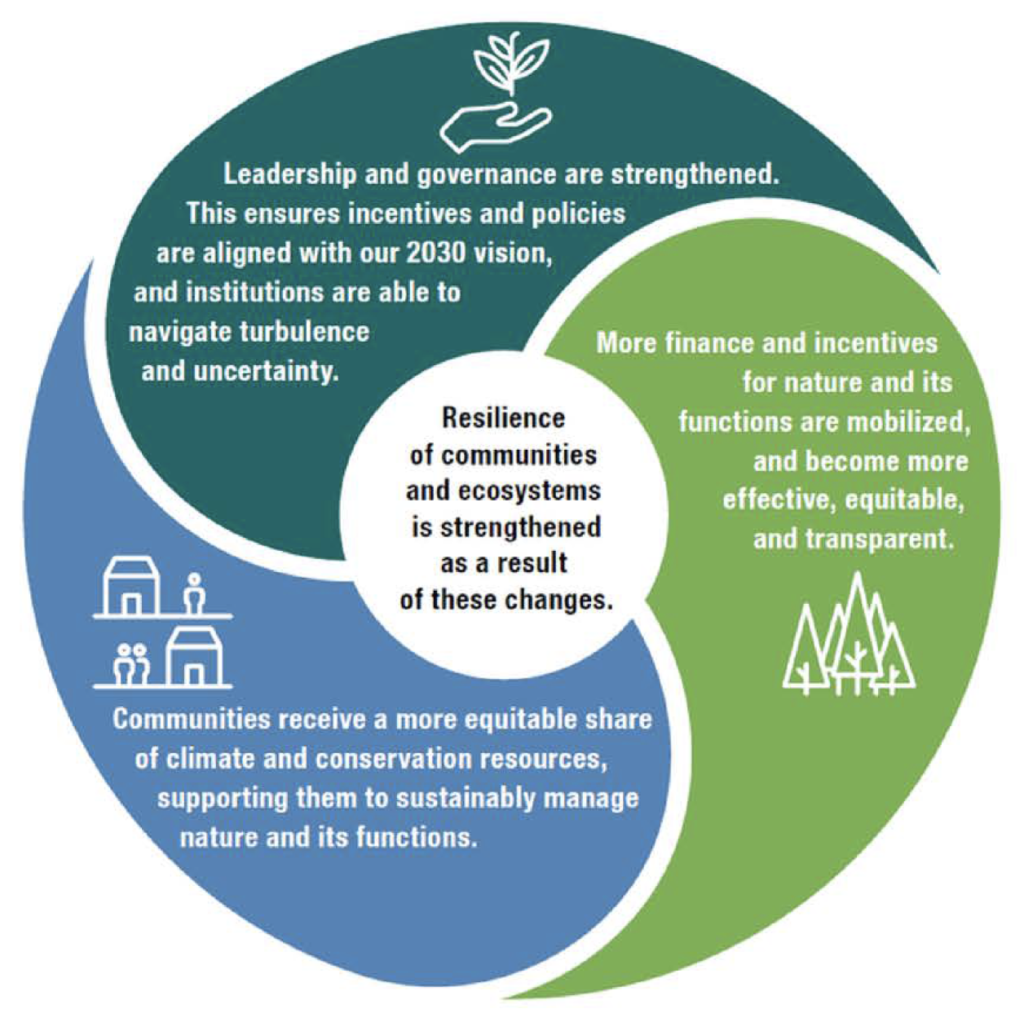 We'll achieve our 2030 strategic objectives through a combination of five core strategies. By design, we are lean, global, and nimble – so we need to work with partners to achieve any impact. Our goal is always to work in coalitions, move quickly when opportunities arise, and think systemically.  
CREATE KNOWLEDGE 
We specialize in producing, documenting, and sharing creative and decision-critical information, including market and trade data, traditional knowledge, thought leadership, technical and scientific resources, project guidance, policy analysis, and more. 
INCREASE CAPACITY 
We focus on leadership development, capacity building, and mentorship networks in the regions, sectors, and policy arenas where we work. We look to amplify diverse voices, including those of women, indigenous and traditional communities, youth, and elders.  
BUILD COALITIONS 
We convene inclusive coalitions, partnerships, and communities of practice, bringing people and organizations together to forge a shared vision and roadmap.  
FACILITATE INVESTMENT 
We work to mobilize equitable and transparent finance at scale, through market development, project incubation, generating a pipeline of investment-ready projects, and designing innovative financing approaches.  
FOSTER INNOVATION AND COLLABORATION 
We invest in our own capacity to be reliable partners, big-picture thinkers, and a model for promoting partnership-centric approaches and wellbeing as an organization and in the larger field.
Our History
Beginning in 1996, a small group of leaders from the forest industry, philanthropic community, and environmental groups began to meet to consider the array of challenges facing forest conservation and to identify common ground. Participants in these meetings recognized the respective contributions and limits of their own institutions and decided to create a new organization, Forest Trends, to expand this work of bridging traditional divides and promoting market-based approaches to forest conservation.
In 1998, the group agreed on an organizational model for the new organization. Forest Trends would be a small, nimble, and responsive non-profit organization with three principal roles: convening market players to advance market transformations, generating and disseminating critical information to market players, and facilitating deals between different critical links in the value chains of new forestry.
The original group of participants was expanded to include additional representatives from industry, finance, and conservation. This enlarged group became the original Board of Directors. The Board was expanded in late 1999 to include representatives from other major forested regions besides the United States, including Russia, Brazil, Malaysia, and Canada.
Our history, our Board, and our focus on market approaches are Forest Trends' unique strengths. The Board is unusual in that it reflects the wide diversity of opinions and interests active in global forest issues, yet is bound by the common desire to increase the contribution of markets to forest conservation and the livelihoods of people.
This unique combination of diversity and common ground enables our organization to better understand the issues and trade-offs associated with different perspectives, and to provide leadership for reconciliation. It also establishes a powerful platform from which Forest Trends can survey the horizon for emerging issues and opportunities.