As of February 2022
Over the past several decades, dozens of countries – most in tropical timber-producing areas – are reported to have enacted policies that restrict or prohibit the export of specific forest products, including raw logs and sawnwood. Following a multiyear global study on these Forest Product Export Restrictions (FPERs), Forest Trends has identified 143 policies across 72 countries that effectively restrict (or have previously restricted) the international export of one or more forest products, including information on the common FPER subset known as log export bans (LEBs).[1]
Information on these Forest Product Export Restrictions (FPERs) have been compiled into a legislative database, made available to the public in the below table:
Forest Trends FPER Database (Updated February 2022)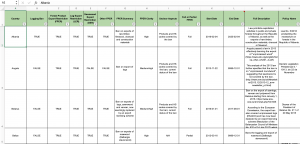 This database represents, to date, the most comprehensive analysis on these export restrictions, and suggests that the geographic and product coverage of Forest Product Export Restrictions is far broader than previously understood. Forest Trends' analyses[2] reveal that in 2019, global markets purchased $4.88 billion of logs and $5.03 billion of sawnwood from countries with active export restrictions on those products (29% and 13% of global log and sawnwood imports, respectively). This has significant due diligence implications for importers of timber from these countries, and governance implications for the exporting countries.