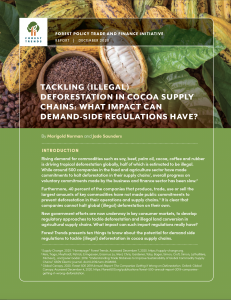 By Marigold Norman and Jade Saunders
View Publication
Rising demand for commodities such as soy, beef, palm oil, cocoa, coffee, and rubber is driving tropical deforestation globally, half of which is estimated to be illegal. While around 500 companies in the food and agriculture sector have made commitments to halt deforestation in their supply chains, overall progress on voluntary commitments made by the business and finance sector has been slow.
Furthermore, 40 percent of the companies that produce, trade, use, or sell the largest amounts of key commodities have not made public commitments to prevent deforestation in their operations and supply chains. It is clear that companies cannot halt global (illegal) deforestation on their own.
New government efforts are now underway in key consumer markets to develop regulatory approaches to tackle deforestation and illegal land conversion in agricultural supply chains. What impact can such import regulations really have?
Forest Trends presents ten things to know about the potential for demand side regulations to tackle (illegal) deforestation in cocoa supply chains.