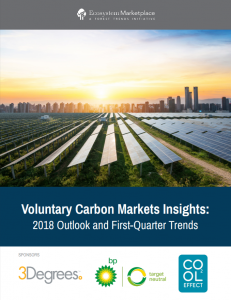 By Kelley Hamrick and Melissa Gallant
View Publication
Since trading of voluntary carbon offsets first took off in the late 2000s, voluntary carbon projects have helped to reduce, sequester, or avoid over 435.7 MtCO2e–equivalent to not consuming over one billion barrels of oil. These projects are supported by companies, individuals, and governments purchasing carbon offsets, whose growing demand resulted in a record-high of 42.8 MtCO2e retired in 2018.
Yet the carbon markets landscape is changing fast. New compliance markets, in the form of domestic carbon pricing schemes, international trading through the Paris Agreement, or the international airline industry's CORSIA program, may generate unprecedented levels of demand for carbon offsets. How those markets are designed and implemented will determine whether voluntary carbon markets thrive, adapt, or diminish.
To reflect the rapidly changing carbon markets landscape this year, we are excited to announce our new mini-report, Voluntary Carbon Market Insights: 2018 Outlook and First-Quarter Trends, that examines the key trends that have emerged in the first quarter (Q1) of 2018. In this report, we present:
Key findings from the last decade of voluntary carbon project activity.
New insights about 2018 first-quarter trends of voluntary carbon offset issuances, transactions, and retirements.
Upcoming policy decisions that might radically change the voluntary carbon markets in upcoming years – including an extended analysis of CORSIA.
UPDATE – April 16, 2019: We found an error in our analysis, and made slight modifications to the 2018 Q1 retirements data and total issuance volume over time.
Creating high-quality reports takes time and resources. As a not-for-profit organization, our ability to track and analyze voluntary carbon markets is made possible by the support we receive from individuals, sponsors, and donors. If you value this report, please DONATE HERE and specify Support for Ecosystem Marketplace in the "Comments" input box.
If you would like to discuss potential partnerships on our future carbon market research or would like high-quality images of the report figures, please email Patrick Maguire.
Visit the EM Carbon Hub for related resources.
SPONSORS
The Ecosystem Marketplace team would like to thank our supporters, 3Degrees, BP Target Neutral, and Cool Effect, for their sponsorship of this report:
To learn more about sponsorship opportunities, please click here.
EVENTS
2018 Outlook and First-Quarter Trends of the Voluntary Carbon Markets We presented the latest data around offset issuances, transactions, and retirements, and we will talk about some of the biggest trends coming up in the voluntary carbon markets. A recording of the webinar is available here.
Aviation Offsetting: CORSIA, Airports, and the Voluntary Market
Author Kelley Hamrick presented our latest findings about voluntary offsetting in the airline industry and how it relates CORSIA in a webinar hosted by the Climate Action Reserve. A recording of the webinar is available here.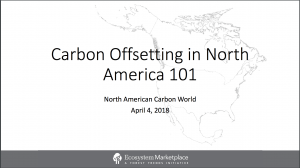 Carbon Offsetting in North America 101
Preliminary findings were presented at the Navigating the American Carbon World Conference, April 2018
REPORT SUPPORTERS
The below names are individuals and organizations who have provided support for this report. Note, supporters who have requested anonymity are not included here.
Peer Reviewers:
Andrew Beauchamp
Max DuBuisson
Julian Ekelhof
Edward Hanrahan
Brian McFarland
Evan Neyland
Rhiannon Szmigielski
Rene Velasquez
Claire Wigg