Back to Home Page
Democratic People's Republic of Korea
Democratic Republic of the Congo
Lao People's Democratic Republic
Saint Vincent and the Grenadines
United Republic of Tanzania
Thailand
Download Country Dashboard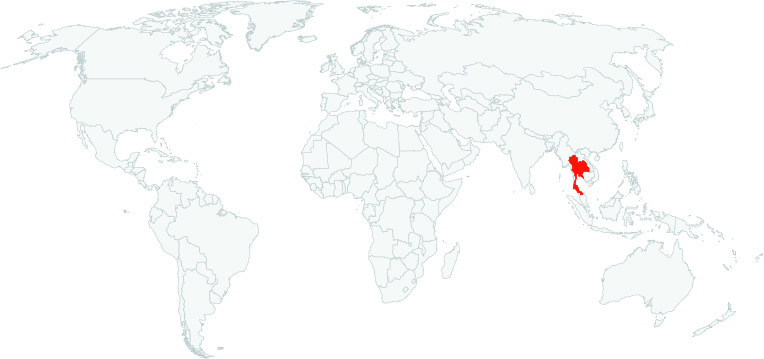 Log Export Restriction
Yes
Other Timber Export Restrictions
Yes
Legality Risks
Click for

details on legality risks
Thailand has banned harvesting from natural forests since 1989 and there are no natural forest concessions. This means that the main source of timber is either from national plantations or imports. Domestic plantation-grown raw materials primarily include rubberwood and to a lesser extent eucalyptus. Thailand's highly complex and ever-changing tenure systems create continuing challenges related to the legality of some plantation species, particularly rubberwood and eucalyptus. As such, the main legality risks for timber sourced from Thailand surround the legal right to harvest, that are rooted in unclear land tenure, illegal land documents, and infringements of the laws in licensed plantations. Illegalities related to harvesting activities, such as harvesting without a permit, illegal logging of protected species and in protected areas, and illegal trade and transport (e.g. incorrect identification of species during transport) have been reported particularly for high value redwoods such as Siamese rosewood.
Thailand's forest area has remained relatively stable above 30 percent of the total land area since 2014. This reflects some localized high rates of natural forest loss in the north of the country accompanied by strong reforestation and plantation development policies.

Thailand has banned harvesting from natural forests since 1989 which means that the main source of timber is from national plantations or imported wood. Domestic plantation-grown raw materials are primarily, rubberwood and teak and to a lesser extent eucalyptus.

Thailand's complex and evolving tenure systems create continuing challenges for verifying the legality of plantation grown species such as rubberwood and eucalyptus.

Most non-plantation grown wood used in Thai-manufactured products is commonly understood to have been imported. Imported timber is sourced from both higher- and lower-risk source countries.

Illegal logging of natural forest in protected areas continues to be reported, particularly for high-value redwood species.

There remains a risk of unsustainable and illegal trade in Convention on International Trade in Endangered Species (CITES)-listed species.
Read more by downloading the Thailand Timber Legality Risk Dashboard here.
Publications
Click for

publications related to Thailand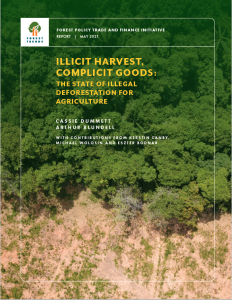 While subsistence agriculture and logging still contribute to deforestation, commercial-scale agricultural expansion is now recognized as by far the single largest driver of deforestation worldwide and thus also of greenhouse gas emissions from land-use change. Several initiatives have quantified how much and where deforestation is driven by commercial agriculture, and even how much of this […]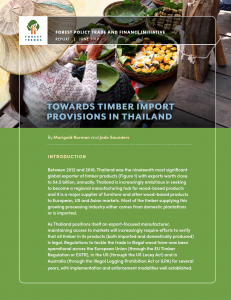 As Thailand positions itself an export-focused manufacturer, maintaining access to markets will increasingly require efforts to verify that all timber in its products (both imported and domestically produced) is legal. Regulations to tackle the trade in illegal wood have now been operational across the European Union (through the EU Timber Regulation or EUTR), in the[…]
Key Resources
Click here for a collection of Forest Trends publications related to IDAT Risk, including the full set of Timber Legality Risk Country Dashboards.
Methodology
Timber Data Tool
Click here to access the Global Illegal Logging and Associated Trade (ILAT) Risk assessment tool and to download the Forest Trends User Guide describing the functionality of the ILAT Risk Data Tool.
Export Restrictions
Click here to download a database of forest policy export restrictions.