Our Mission
Supporting indigenous and forest communities to thrive in their homelands is one of the most effective safe­guards against deforestation. These communities are our first line of defense in saving forests and fighting climate change since forests remove a quarter of the world's carbon. But these defend­ers face unrelenting pressures to clear forests for agriculture, logging, mining, and illegal activities – and often experience violence or political repression when they resist. They need effective partnerships to keep their forests standing and secure their rights. They also need support in creating sustainable economic pathways.
We work in Latin America, where 50% of the world's tropical forests remain. In fact, one-quarter of these forests are inhabited and guarded by indigenous and other local communities. We partner with these stewards to promote innovations in territorial governance as a participatory framework to secure their rights, conserve their forests, and strengthen their cultures and livelihoods.
We focus on local strategies with global impact, creating direct, measurable benefits for forest communities. Doing so contributes to global climate goals that benefit all of us.
Key Results
Our Approach
---
Our team uses a proven "territorial governance" approach that considers advocacy, economic self-determination, and cultural integrity as three essential pillars:
Advocacy
Economic Self-determination
Cultural Integrity
Indigenous Peoples & Local Communities Territorial Governance Facility
There is a gap in aid money for climate mitigation: less than 1% reaches indigenous peoples and local communities (IPLCs) directly. Investment is needed to strengthen IPLC governance so they can continue to protect their territories and participate as equal partners in climate and conservation finance. Forest Trends is establishing an IPLC Territorial Governance Facility to fill this gap and meet the need to provide culturally appropriate support to IPLCs looking to strengthen governance and engage in climate and conservation finance projects and programs.  Learn more here.

---
Cumari: From Rainforest to Table
A new movement, linking food, conservation and communities is taking shape in the Amazon.
Forest Trends, Canopy Bridge and some of Latin America's best-known and most influential chefs are looking to use the Amazon's vast cornucopia of healthy ingredients and traditional cuisines to bring the flavors and nutrition of the rainforest to tables in indigenous villages and big city restaurants, in the process creating new markets and businesses for products that help protect the forest and nurture local communities.
The Amazon Pantry
The Amazon´s forests, lands, and waters have for millennia provided a diverse cornucopia of food and ingredients that have transformed biodiversity into gastronomic pleasure – from a log fire in the jungle to some of the best restaurants in the world. Some products, such as cocoa beans and Brazil nuts, are well known worldwide. Others are in the process of expanding more widely into the national and international markets, for example camu camu, açai, sacha inchi, and paicheamongst others. But there is an even greater, almost infinite diversity of species, varieties, ingredients, and uses yet to be discovered in the culturally and biologically rich world of the Amazon. With over 40,000 species of plants, at least 3,000 species of fish, and another 3,000 kinds of fruit, the Amazon pantry is bursting with potential.
This diversity is threatened by pressure from other sorts of food production – soybeans, beef cattle, cocoa plantations, and oil palm – the main drivers of deforestation in the region.
But savoring the products of the rainforest can help save it.
An Amazon Food Movement
In Latin America, as in the US and Europe, a new food movement is taking shape, with interest in healthy and novel ingredients, and a commitment to origins and supporting producers. A new crop of chefs and food enthusiasts is revitalizing national cultures and turning an enthusiastic and appreciative eye to local ingredients like never before. The boom in food culture has been nothing short of astounding with new restaurants, organic markets, and novel ingredients.
At the vanguard are chefs at standout Latin American restaurants, several ranked as amongst the best in the world, who are redefining national food culture, and increasingly incorporating Amazon ingredients into their offerings. Pedro Miguel Schiaffino, of Lima's amaZ and Malabar, has been a pioneer in reinterpreting Amazon ingredients in his sophisticated cuisine. Across Latin America, other leading exponents include Paulo Machado, Mara Salles (Tordesilhas) and Thiago Castanho (Remanso do Bosque) in Brazil, Eduardo Martinez (Mini-Mal) in Colombia, Kamilla Seidler and Michelangelo Cestari of Gustu in La Paz, and Peru's Mitsuharu Tsumura (Maido) and Virgilio Martínez (Central).
These chefs and restaurants are at the forefront, educating their visitors dish by dish, making the Amazon's biodiversity and extraordinary potential palpable.
An Agent for Change
Conservation in the Amazon requires society´s fully valuing its diverse ecosystems, both economically and culturally. Chefs and gastronomy can increase awareness and demand for delicious and healthy Amazon foods, creating a new way to value the rainforest and, through partnerships for sustainable sourcing, opening up new economic opportunities for local stewards of biodiversity and cultural traditions and creating new incentives for conservation.
Roadmap
In November 2015, we gathered a remarkable group of chefs, conservation scientists, activists, entrepreneurs, and food writers in the Peruvian Amazon to strategize about how to make gastronomy an agent for change, benefitting forests and local communities in the Amazon. You can see videos of that journey here:
In June 2016, the chefs again joined an eclectic group of creative thinkers at the Aspen Ideas Festin Colorado, where they showcased their vision to a growing audience through a demonstration dinner and a panel at Spotlight Health on Saving the Amazon through Gastronomy.
Over the coming months we will continue to work together to unlock the potential of Amazon foods to generate new appreciation for the value of the rainforest, and to create new opportunities for local nutrition and sustainable enterprises through two main sets of endeavors:
Indigenous Peoples & Local Communities Territorial Governance Facility
There is a gap in aid money for climate mitigation: less than 1% reaches indigenous peoples and local communities (IPLCs) directly. Investment is needed to strengthen IPLC governance so they can continue to protect their territories and participate as equal partners in climate and conservation finance.
Forest Trends is establishing an IPLC Territorial Governance Facility ("Territorial Governance Facility" or "Facility") to fill this gap and meet the need to provide culturally appropriate support to IPLCs looking to strengthen governance and engage in climate and conservation finance projects and programs.
The Facility is supporting activities in three main areas: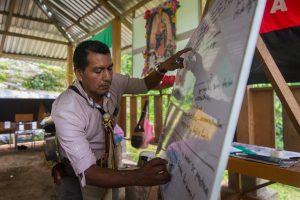 1)     Political Governance
The Political Governance Program will focus on providing IPLCs with tools for better management and/or administration at the local level. Strengthening this capacity will allow 1) better representation of the interests and desires of communities and families (with special attention to gender and intergenerational equity), and 2) more effective defense of their interests and territories during engagement with external actors, especially local and regional governments, and in situations that threaten the territorial integrity and conservation of their forests.
2)     Economic Governance
The Economic Governance Program is focused on the valorization of a community or territory's natural resources in a way that recognizes them as common goods and promotes equitable Good Living (Buen vivir) for all families and communities. This Program will promote discussion and co-creation processes within territories, aimed at ensuring their economies, food security, and resource use are sustainable. The Program will also help incubate self-determined economic enterprises and build relationships to ensure equitable market access.
3)     Cultural Governance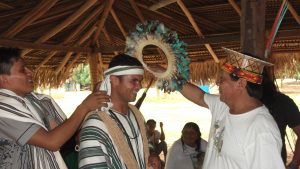 The Cultural Governance Program is grounded in IPLCs' need to guarantee the survival of their languages, knowledge, and traditional practices in the face of cultural erosion. Non-indigenous values, knowledge, and ways of life are a threat to IPLCs' cultural integrity and survival, especially through schools, the media, and Internet access via cell phones. It is therefore extremely important that territorial governments develop programs and activities with an intercultural approach to engage youth, share and preserve knowledge, and promote dialogue between generations.
Building on over 20 years' experience, Forest Trends provides initial institutional structure, technical capacity, and a framework for building an independent Facility with multi-stakeholder governance and the capacity to mobilize private and public finance at scale. An initial emphasis will be placed on Latin America, with potential to scale globally. The ultimate aim is to create an independent vehicle with multi-stakeholder governance, multi-donor structure, and capability to rapidly scale up mobilization of private and public funding. During this first phase, the Facility will include a Steering Committee to be comprised of representatives of IPLC organizations, initial funders, and globally respected individuals to steer its design and initial investments.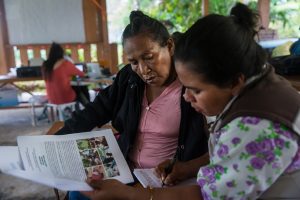 The Facility is supporting IPLC communities and territories by:
1)     Offering training, networking, and capacity building programs to strengthen territorial governance
2)     Connecting them to multiple sources of funding for political, economic, and cultural governance projects
3)     Assisting them in their interactions and partnerships with governments and private companies to obtain direct climate and conservation finance
Contact: Beto Borges, bborges@nullforest-trends.org
Director, Communities & Territorial Governance Initiative
Capacity Building Program on Indigenous Territorial Governance (PFGTI)
Mecanismo de Gobernanza Territorial para Pueblos Indígenas y Comunidades Locales
Existe un enorme déficit en el financiamiento climático: menos del 1 % llega de manera directa a los pueblos indígenas y las comunidades locales (PICL). Se requiere invertir en fortalecer la gobernanza de los PICL de modo que puedan continuar conservando sus territorios, hacer frente a las amenazas y ser socios de pleno derecho en los mecanismos financiertos para el clima y la conservación.
Forest Trends está estableciendo un Mecanismo de Gobernanza Territorial para Pueblos Indígenas y Comunidades Locales ("Mecanismo de gobernanza territorial") para contribuir a resolver dicho déficit y y acompañarlos con propuestas culturalmente apropiadas que promueva el fortalecimientos de su gobernanza  y les permita acceder al financiamiento climático existente en condiciones de equidad.
El Mecanismo fortalecerá la Gobernanza Territorial en tres grandes programas: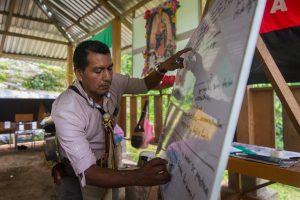 1)     Gobernanza política
El Programa de Gobernanza Política estará orientado a brindarle herramientas a los IPLCs para una mejor gestión o administración a nivel local, que permita a la vez un mejor ejercicio de representatividad de los intereses y anhelos de las comunidades y familias (con especial atención a un enfoque de género y generación), y una mejor capacidad para poder defender los intereses del territorio con actores externos, especialmente con los gobiernos locales y regionales, y en situaciones de amenazas a la integridad territorial y a la conservación de sus bosques por parte de terceros.
2)     Gobernanza económica
El Programa de Gobernanza Económica está orientado a la puesta en valor de los recursos naturales de la comunidad o territorio, teniendo en cuenta el hecho de que son bienes comunes y deben promover el Buen Vivir con equidad del conjunto de comunidades o familias. Este Programa promoverá procesos de reflexión y discusión al interior de los territorios, orientados tanto a asegurar la Economía Propia, de seguridad alimentaria y de aprovechamiento sostenible de sus recursos, como promover iniciativas económicas que se articulen al Mercado en condiciones de equidad.
3)     Gobernanza culturale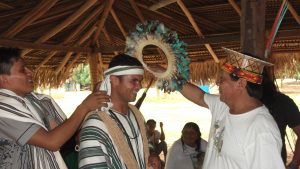 El Programa de Gobernanza Cultural parte de la necesidad que tienen los IPLCs de garantizar la pervivencia de su lengua, sus saberes, sus prácticas tradicionales, en un contexto de erosion cultural dónde los valores, conocimientos y formas de vida del mundo no indígena son una amenaza, especialmente a través de la escuela, los medios de comunicación, y últimamente con el acceso a internet a través del celular. Pore so es sumamente importante que los gobiernos territoriales desarrollen programas y actividades con abordaje intercultural, en una perspectiva de dialogo de saberes.
En base a su experiencia de más de 20 años acompañando a territorios y comunidades, Forest Trends proveerá la estructura institucional inicial, la capacidad técnica y un marco para construir este Mecanismo independiente que contará con una gobernanza de múltiples actores y la capacidad de movilizar financiamiento público y privado a gran escala. Inicialmente el Mecanismo se establecerá en América Latina, pero con la posibilidad de progresivamente tener un alcance mundial. Durante una primera fase, el Mecanismo contará con un Comité Asesor que constará de representantes de organizaciones de PICL, los donantes iniciales y personas reconocidas a nivel mundial para orientar el diseño y la estructuración del Fondo y el apoyo financiero inicial a los IPCLs a través de un Mecanismo Concursable.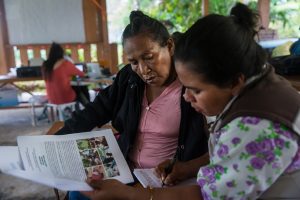 El Mecanismo apoyará a los territorios y comunidades de los PICL mediante:
Programas de formación, apoyo legal, actividades de incidencia en políticas públicas, apalancamiento para el acceso a financiamiento climático, construcción de Planes de Vida, planes de aprovechamiento de sus recursos de la biodiversidad, etc.
Apoyo técnico específico en base a sus necesidades y demanda, a través de Mecanismo Concursables
Una vez estructurado el Mecanismo, la mayor parte del financiamiento será canalizado directamente a los IPLCs, siempre enmarcados en actividades de fortalecimiento de su Gobernanza Política, Económica y Cultural.
Contacto: Beto Borges, bborges@nullforest-trends.org
Director, Communities & Territorial Governance Initiative
Programa de Formación de Gobernanza Territorial Indígena (PFGTI)
Mecanismo de Governança Territorial para Povos Indígenas e Comunidades Locais
Há uma lacuna no financiamento para a mitigação climática: menos de 1% chega diretamente aos Povos Indígenas e Comunidades Locais (PICLs). O investimento é necessário para reforçar a governança dos PICLs para que possam continuar protegendo seus territórios e participando como parceiros igualitários no financiamento do clima e da conservação.
A Forest Trends está estabelecendo um Mecanismo de Governança Territorial para PICLs ("Mecanismo de Governança Territorial" ou "Instrumento") para preencher essa lacuna e atender à necessidade de acompanhamento e apoio culturalmente adequado aos PICLs  procurando fortalecer a governança territorial e garantir o acesso ao financiamento do clima e da conservação em condições de igualdade.
O Mecanismo vai apoiar atividades em três áreas principais: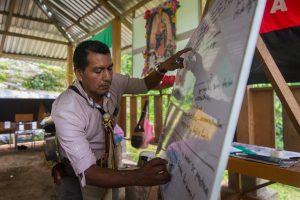 1)     Governança Política
O Programa de Governança Política vai fornecer ferramentas aos PICLs para uma melhor gestão e administração em nível local. O fortalecimento desta capacidade permitirá uma melhor representatividade dos interesses e desejos das comunidades e das famílias (com especial atenção para o gênero e a equidade intergeracional), e uma defesa mais efetiva dos seus interesses e territórios durante o envolvimento com atores externos, especialmente governos locais e regionais, e em situações que ameacem a integridade territorial e a conservação de suas florestas.
2)     Governança Econômica
O Programa de Governança Econômica está focado na valorização dos recursos naturais de uma comunidade ou território, de forma que sejam reconhecidos como bens comuns e promovam um Bom Viver equitativo (Buen vivir) para todas as famílias e comunidades. Esse Programa promoverá processos de discussão e cocriação dentro dos territórios, que visam garantir que suas economias, a segurança alimentar e o uso dos recursos sejam sustentáveis. O Programa também apoiará  a promoção de iniciativas econômicas autodeterminadas a estabelecer relações para garantir um acesso equitativo ao mercado.
3)     Governança Cultural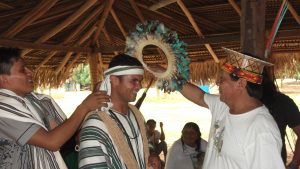 O Programa de Governança Cultural é baseado na necessidade dos PICLs de garantir a sobrevivência de suas línguas, conhecimento e práticas tradicionais perante a erosão cultural. Os valores, o conhecimento e os modos de vida não indígenas são uma ameaça para a integridade cultural e a sobrevivência dos PICLs, especialmente através das escolas, da mídia e do acesso à Internet por meio de telefones celulares. Portanto, é extremamente importante que os governos territoriais desenvolvam programas e atividades com uma abordagem intercultural para envolver a juventude, partilhar e preservar o conhecimento, e promover o diálogo entre gerações e saberes.
Baseada em sua experiência de mais de 20 anos, a Forest Trends fornecerá estrutura institucional, capacidade técnica e um marco para criar um Instrumento independente como uma governança com múltiplas partes interessadas e a capacidade de mobilizar financiamento privado e público em escala. Será colocada ênfase inicial na América Latina, com potencial de ganho de escala gradual para ter escala global. O objetivo final é criar um veículo independente como uma governança com múltiplas partes interessadas, uma estrutura de multidoadores e a capacidade de viabilizar rapidamente a mobilização de financiamento privado e público. Durante essa primeira fase, o Instrumento incluirá um Comitê Diretivo que vai estar composto por representantes das organizações do PICL, financiadores iniciais e indivíduos respeitados em todo o mundo para gerir sua configuração e investimentos iniciais.
O Instrumento vai apoiar as comunidades do PICL e seus territórios:
Oferecendo formação, networking e programas de desenvolvimento de capacidades para fortalecer a governança territorial
Conectando-os com múltiplas fontes de financiamento para projetos de governança política, econômica e cultural
Ajudando-os em suas interações e parcerias com governos e companhias privadas para obter financiamento direto do clima e da conservação
Contato: Beto Borges, bborges@nullforest-trends.org
Director, Communities and Territorial Governance Initiative
Programa de Treinamento em Governança Territorial Indígena (PFGTI em espanhol)