For the first time in years, there is an administration in Brazil that is aligned with our priorities here at Forest Trends – in particular those of supporting local and indigenous environmental defenders, and advancing governance and policy that aims to conserve the environment rather than exploit it.
Brazil is in the midst of several historical moments for social and environmental justice and conservation. In his earliest days as president, Luiz Inácio Lula da Silva has created the first ever Ministry of Indigenous Peoples to be led by Sônia Guajajara, moved FUNAI (the government agency responsible for policies related to indigenous peoples) under this new ministry, and instated Marina Silva as Minister of Environment, who held the role from 2003-2008 and helped drive Brazil to greatly reduce deforestation in the Amazon during her tenure.
Both women are tremendous advocates for indigenous rights and environmental conservation and have been colleagues of Forest Trends for years. We look forward to working closely with Sônia and Marina once again to take advantage of the political will and momentum to strengthen indigenous rights and environmental conservation in Brazil.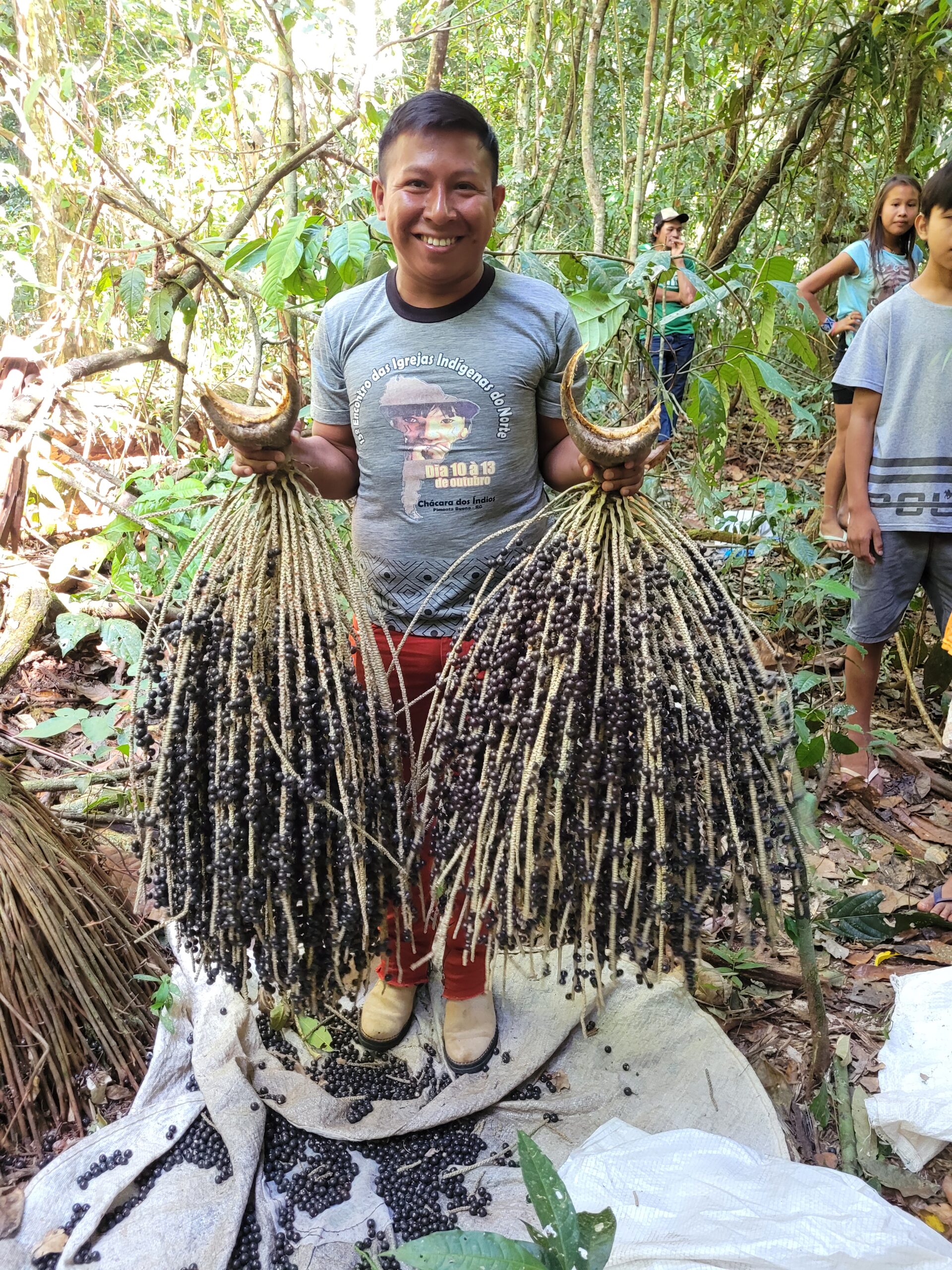 With its wealth of cultures and ecosystems, Brazil is a perfect place to build what we call the Amazon bioeconomy: a sustainable, regenerative, forest-based economy built on multiple supply chains from the biodiversity of the forest, rather than single-product supply chains, such as beef or soy. We envision an Amazon bioeconomy spanning not only Brazil but all of the countries that share the Amazon forest. This economic model supports sustainable livelihoods and strong communities for indigenous and local peoples as they care for forests.
Artisans and small-scale producers are in a position to shape and model a new way of doing business that provides stable livelihoods while being forest-friendly. But this is not small-scale intervention: together with a large network of partners, we're growing forest-based value across the 1.5 million hectare Tupi Mosaic in Rondônia and Mato Grosso states.
We provide incubation support to these producers to bring their economic initiatives to market scale, from business planning and seed funding to market connections that help producers capture more value from their products. We have supported a wide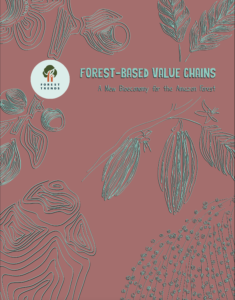 range of sustainable producers and business owners in the Amazon.
In December 2021, we released a series of four technical manuals in Portuguese for local and indigenous peoples to use as guidance for the markets and value chains for five important Amazonian products in the Tupi Mosaic (in Rondônia and Mato Grosso states), Brazil: açaí, cacao, Brazil nuts, artisan products, and native plant seeds and seedlings.
We are pleased to share the new English summary of this work, Forest-based Value Chains: A New Bioeconomy for the Amazon Forest, which highlights each value chain and the benefits of investing in forest community economic initiatives, for the communities themselves and landscapes as a whole (more in the infographic below).
We look forward to continued work with our indigenous partners in the Tupi Mosaic and elsewhere to strengthen livelihoods, food security, and land management in these critical forest areas.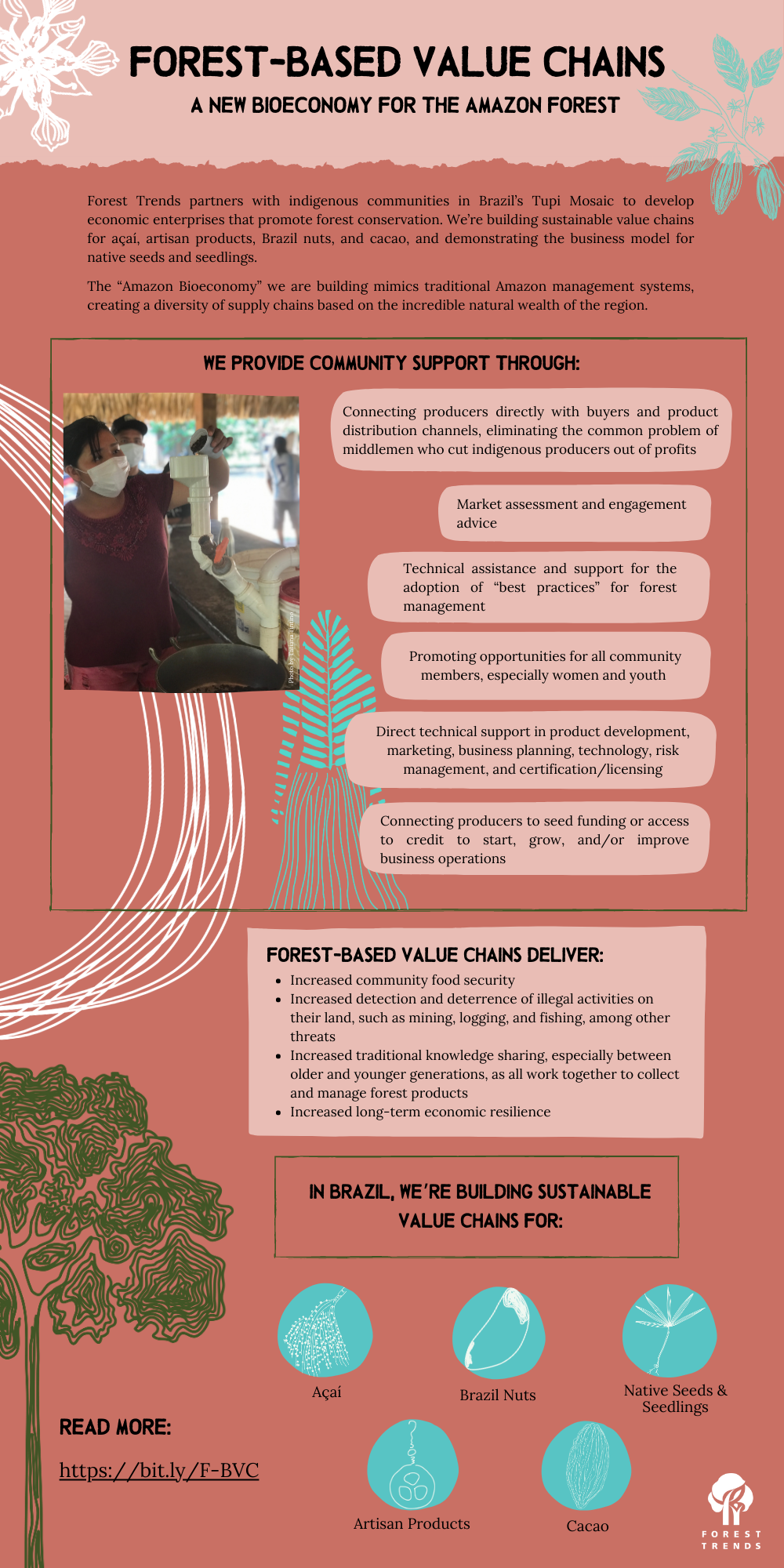 ---
Viewpoints showcases expert analysis and commentary from the Forest Trends team.
Connect with us on Facebook and Twitter to follow our latest work.