Indigenous peoples in the Amazon are dying of COVID-19. In Brazil, indigenous peoples are being lost at twice the rate of their non-indigenous compatriots. The pandemic arrived at a time when indigenous communities were already facing a wave of new discrimination, isolation, and existential threats from outside exploitation of their land. As government inaction is allowing the spread of the virus to remote communities in the Amazon, loggers and miners are invading indigenous lands and committing violence with impunity.
But some indigenous communities are weathering the crisis much better than others. These communities have strong safety protocols in place. They aren't worried about food shortages. The Gavião community in Rondonia, Brazil, for example, donated 600 kilos of food produced on their land to 40 urban families. In the Peruvian Amazon, the Wampis People have coordinated with the federal government and military bases to implement village wide shelter-in-place orders that prohibit people entering or leaving the community. Wampis who are returning to their villages from cities are following a strict quarantine protocol in designated remote areas. (These measures are necessary since it is impossible to follow national guidelines for staying at home and social distancing in indigenous villages, where much of living is communal.)
Indigenous communities that had strong autonomy and self-governance before the COVID-19 crisis are best positioned to navigate the pandemic today – a point recently made by the UN Special Rapporteur on the rights of indigenous peoples.
Governance, simply put, means the ability of a community to manage their lands, resources, food security, and healthcare in ways that align with their cultures and worldviews. The traditional systems of  governance that have served indigenous people over millennia are today often overwhelmed by the powerful economic drivers behind deforestation.
Forest Trends' Capacity Building Program on Indigenous Territorial Governance (PFGTI in Spanish) was created to provide a governance training program for indigenous people in remote communities who are often excluded from leadership training, particularly women and young people. The program was designed over two-years by Forest Trends, indigenous organizations, university partners, and WWF, and is being implemented with the support of NORAD and USAID.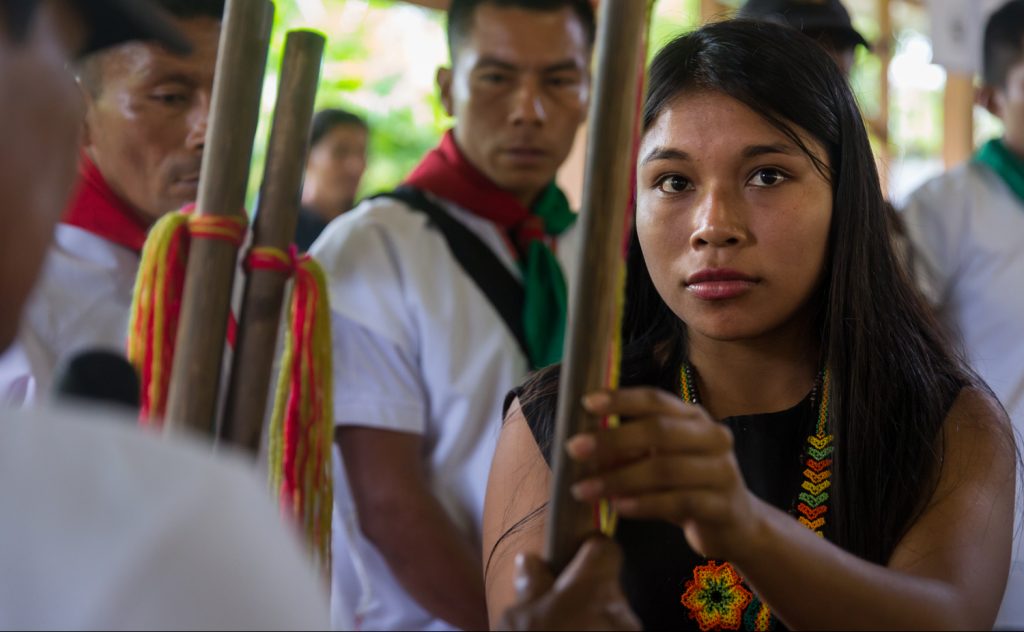 The course is also designed to connect young people to their territories and prepare new leaders to address their communities' challenges. The training program relies on practical hands-on learning projects, which allow students to explore a real issue in their community. For example:
In Ucayali, Peru, the Korinbari Community used their PFGTI learning project to develop a territorial monitoring system to detect and halt illegal fishing, hunting, and logging. This has led to legal repercussions for 20 people who had been illegally encroaching on their lands. This initiative did not end with the PFGTI – the community mobilized with the support of regional indigenous organizations and brought prosecutors from the state to force out outsiders. The community is currently fundraising to expand this important control and vigilance system.
In Santa Clara de Uchunya, Peru, the training program included Carlos Hoyos, an important Santa Clara de Uchunya community leader, who was leading a campaign to raise awareness of the impact of the palm oil industry on the community. After the program, Hoyos gave testimony in Peruvian Congress and later in the Inter-American Commission on Human Rights in Washington, DC. Thanks to his efforts and the community's mobilization, their territory will be re-titled to add 1,544 hectares.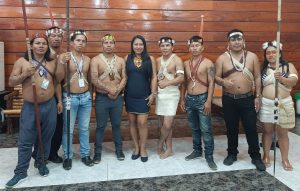 In Tena, Ecuador, the Kijus community created an internal regulation system, which allows them to strengthen their governance and decision-making processes. The community hired a lawyer to establish their bylaws, and asked the PFGTI participants to take part in the creation of the protocol system – an opportunity for program graduates to apply what they had learned. They became the technical support team for their community association during this process and are now working on the Community Investment Plans for the Socio-Bosques Program, which will bring income to their community for every hectare of forest conserved.
In Putumayo, Colombia, the regional training program coincided with the national event Minga de Resistencia, during which the local indigenous movement developed an agenda to secure their educational, health, territorial, and human rights. PFGTI participants were able to use their newly acquired knowledge on legal matters and conflict resolution during this political forum to achieve a national and regional impact.
In Rondonia, Brazil, the PFGTI for the Indigenous Rio Branco Territory included participants from different villages (communities) and peoples: Tupari, Kanoe, Campe, Makurap, Arua, Sakarabiat y Jabuti (Djoromitxi). As a result of the PFGTI in Brazil, six young people (including two women) have taken on leadership roles within their villages and work in government agencies. Graduates are representing their villages in Brazil Nut cooperatives, training to become health advisors, and advising local leaders.
How the Training Program Works
The 12-month program aims to strengthen the agency of indigenous territories and their capacity to respond to challenges, secure rights, and improve livelihoods and forest conservation. Participants focus on the three key aspects of territorial governance: cultural heritage, territorial management, and economic security.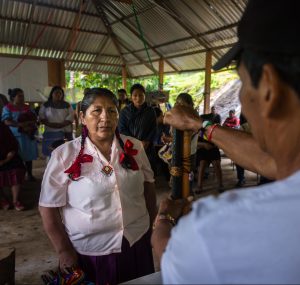 The program is designed to reach out to individuals that have not been traditionally included in territorial governance and prepare them for leadership roles. Local communities each elect four representatives to participate in a PFGTI course term. Of these four, the PFGTI requires at least one woman, one young person, one elder, and one person who already holds a leadership position in the community.
Since launching in 2016, the program has been implemented in Peru, Colombia, Ecuador, and Brazil, and has supported the creation of self-governance instruments increased the participation of women and youth in local governance, and established a territorial monitoring initiative. Some of these training projects have already led to changes in territories, with ripple effects at regional and national levels – PFGTI graduates are now occupying leadership positions in local indigenous organizations and local legislative councils. Forest Trends and PFGTI partners have also cultivated our network by securing co-funding from the climate finance community (e.g., ProAmazonia in Ecuador, full funding from Vision Amazonia in Colombia).
Looking beyond Emergency Relief
The COVID-19 pandemic requires an emergency response to ensure that indigenous communities have access to food, medical equipment, and information about preventing the spread of the disease. Here is a short overview of how Forest Trends and partners are supporting emergency relief efforts:
We're acquiring and safely distributing food and cleaning supplies, including coordinating the production and distribution of over 30,000 masks.
We're enhancing food security by bringing food where it is needed and strengthening community-based food production systems, including traditional gardens and agroforestry systems.
We're disseminating information, security protocols, and opportunities to access emergency funds to all of our indigenous partner organizations.
We're providing technical support for locally led projects so they can access emergency funds and crowdfunding campaigns.
We're establishing partnerships with family farming organizations and creating a food distribution system with government agencies FUNAI and SESAI.
We're working to secure resources to support an indigenous-led communication network, identify connectivity gaps, install internet access points, and develop training and informational materials to improve health care at the village level.
But this will not be enough. In the long term, strong self-governance is what allows communities to respond rapidly to this crisis and future challenges. Stronger indigenous agency at local and national government levels takes time, and changes must be thoughtfully curated by indigenous people as they rework self-governance systems to meet their needs. Non-indigenous outsiders can do this by supporting work that builds indigenous communities' capacity to advocate for their rights, protect their forests, and preserve their way of life. It really does take a village at both local and global levels!
---
Viewpoints showcases expert analysis and commentary from the Forest Trends team.
Connect with us on Facebook and Twitter to follow our latest work.