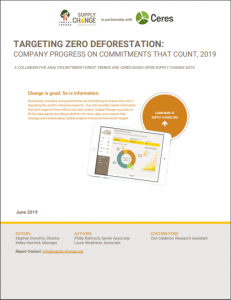 Company Progress on Commitments That Count, 2019
By Philip Rothrock and Laura Weatherer
View Publication
A Collaborative Analysis between Forest Trends and Ceres, Based on Supply Change Data
It's been nearly a decade since the Board of the Consumer Goods Forum (CGF), an industry association comprised of roughly 400 companies, passed a resolution to achieve Zero Net Deforestation in the "big four" commodity supply chains responsible for the bulk of the world's deforestation – cattle, soy, palm oil, and pulp & paper – by the year 2020.
Since then, a significant number of consumer-facing buyers, and a small but growing number of investors, have leveraged zero deforestation commitments to both attract sustainability-minded consumers and meet their own fiduciary responsibility to identify, disclose, and address climate-related risks.
This analysis by Forest Trends' Supply Change Initiative in partnership with Ceres investigates companies reporting quantitative progress towards zero and zero net deforestation goals. Our research can inform value-driven investors looking to influence companies to establish, implement, and report progress on commitments to address deforestation.
Key findings:
484 (56%) of the 865 companies with forest-risk exposure have set sustainable commodity commitment(s).
Only 72 (8%) of the 865 companies have committed to achieve zero/zero net deforestation for at least one forest-risk commodity.
Just 21 companies (29%) of the 72 companies have reported quantitative progress on at least one zero/zero net deforestation commitment.
Companies with zero/zero net deforestation commitments are half as likely to report progress as those with other types of commitments (such as for commodity certification).
Most of the 21 companies that are reporting on commitments do so in terms of compliant volumes – not just percentages.
Zero/zero net-deforestation commitments lack intermediate deadlines.
Webinar
Out On A Limb Public Webinar
June 26th, 10:00 am ET
Forest Trends' Stephen Donofrio discusses Supply Change's findings on private sector progress on zero deforestation commitments together with co-panelists Jillian Gladstone, Senior Manager of CDP Forests, and Siobhan Collins, Food and Forests Senior Manager at Ceres.
Companion Report
CERES │ Out on a Limb: The State of Corporate No Deforestation Commitments and Reporting Indicators that Count
Ceres' investor brief, undertaken in partnership with Forest Trends' Supply Change, evaluates the progress of corporate zero/net-zero deforestation commitments, and clarifies the data needed by institutional investors looking to monitor corporate progress to halt deforestation as we approach 2020.
As investors engage with companies in their portfolios to press for robust no-deforestation commitments, they need clear and comparable data on corporate progress. This investor brief both clarifies the state of public corporate no-deforestation commitments and lays out the case for elevating two key corporate reporting metrics as hundreds of businesses near their public 2020 no deforestation deadlines.
Additional Resources
Zooming In: Companies, Commodities, & Traceability Commitments that Count, 2018