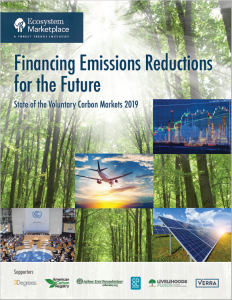 By Stephen Donofrio, Patrick Maguire, William Merry, and Steve Zwick
View Publication
We are pleased to present the State of the Voluntary Carbon Markets 2019, which includes data collected for calendar years 2017 and 2018. This report presents insights compiled through off-the-record interviews by Ecosystem Marketplace's carbon team with a diverse set of market participants, examining voluntary carbon markets dynamics in 2019.
What emerged in these interviews was a clear consensus that market volume has not only continued to rise in 2019, but that it appears to have risen even faster than in the previous two years.
There is less consensus on price, however, as many project developers still held ample supplies of verified offsets at the beginning of 2019. One might anticipate that prices could rise as this inventory dwindles, but that does not appear to have happened yet to any discernible degree.
Key voluntary carbon markets dynamics in 2019 examined in this report:
The boundaries between voluntary, compliance and pay for performance are blurring
Voluntary buyers are rarely buying for compliance purposes
2019 saw an influx of new buyers in the voluntary markets
Media focus on tree-planting is creating buyer preference for afforestation/reforestation over
Other forest and land use project types
Demand for co-benefits has not translated into demand for tradeable sustainable development
Goal contributions
Oil companies and airlines are getting their customers on board
Keep learning:
Download a Market Overview of voluntary carbon markets in 2019, and results from interviews with market participants on predicted market direction in 2020.