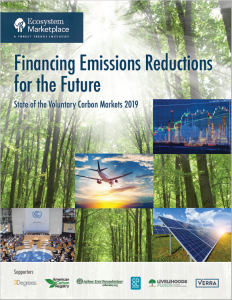 By Stephen Donofrio, Patrick Maguire, William Merry, and Steve Zwick
View Publication
We are pleased to present the State of the Voluntary Carbon Markets 2019, which includes data collected for calendar years 2017 and 2018. This report presents insights compiled through off-the-record interviews by Ecosystem Marketplace's carbon team with a diverse set of market participants, examining voluntary carbon markets' direction in 2020 and beyond.
If there's one thing market participants agree on, it's that demand for voluntary carbon offsets will grow as the world finally begins to address the climate challenge. Less clear, however, are the forms that demand will take and the ways suppliers can meet it without sacrificing quality — especially as inexperienced buyers enter the market.
Voluntary carbon markets direction: What to watch for in 2020
Airlines will lift demand, even without CORSIA
International offsetting could become more complex
The jurisdictional juggernaut could steamroll projects — or tuck them into a nest
Companies are looking to lock in long-term supplies
The Science-Based Targets Initiative could recognize offsets
New volume could bring quality concerns
Governments could succeed in promoting home-grown offsets
Individuals might be (finally) buying
The reduction of renewables
Keep learning:
Download a Market Overview of voluntary carbon markets in 2019, and results from interviews with market participants on key market dynamics in 2019.