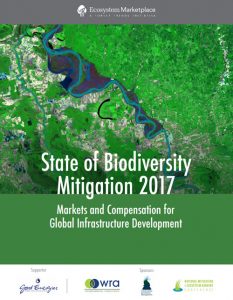 Markets and Compensation for Global Infrastructure Development
By Genevieve Bennett, Melissa Gallant, Kerry ten Kate
View Publication
Between 2015 and 2030, global spending on transportation networks, energy, utilities, and other essential infrastructure is expected to double. This infrastructure development is necessary to keep pace with growing populations, our current infrastructure's depreciation, and the moral imperative to provide a basic modern standard of living for all people on this planet. However, this infrastructure development also has inevitable impacts to the other living creatures who share the planet with us.
This report shows how smart mitigation policies can leverage new financial resources and momentum that reduce these impacts, complementing traditional conservation strategies such as protected areas. The State of Biodiversity Mitigation 2017 report provides a global benchmark of these policy frameworks as well as market mechanisms using offsets and compensation to prevent the loss of any biodiversity as a result of infrastructure development and to even result in an increase. These approaches can also increase regulatory certainty, speed up the pace of planning and permitting, and improve ecological outcomes in managing impacts from infrastructure development.
                DOWNLOAD THE REPORT    |    DOWNLOAD THE EXECUTIVE SUMMARY
WEBINAR
Monday, December 11, 12 – 1 pm EST: Listen to the recording of our webinar where we discuss key findings of the report and consider new strategies for how to manage the impacts that the growing boom of infrastructure development has on biodiversity.
SUPPORTERS AND SPONSORS