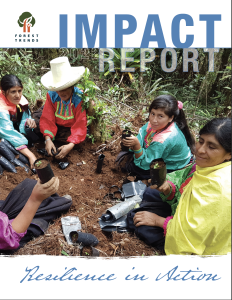 Resilience in Action
View Publication
Forest Trends was founded with the mission of putting an economic engine behind nature conservation – the idea being that our economy, our society, and our wellbeing all depend in very real and material ways on healthy natural ecosystems. 
That idea's time has come. The world is looking to "nature-based solutions" to combat climate change, mitigate water risks, prevent pandemics, protect biodiversity, support food insecurity, and so on. Forest Trends is fielding many new opportunities at a totally different scale than in the past, and at a much more systemic level.
We also want to keep a firm grasp on why we do this work. Hitting climate targets is not the ultimate goal – what we're really trying to do is leave the right legacy to the generations that come after us, aren't we? What we're after is resilience. 
In this respect, 2022 has been an unusually successful year for us.
Quick Links