RELEASE
Forests
Significant volumes of logs and sawn wood continue to be exported from Cambodia to Vietnam, despite a ban on these exports by the Cambodian government since 1996 and numerous commitments from both countries to crack down on illegal trade, according to a new publication in Political Geography authored by Forest Trends' Phuc Xuan To and Australia National University's Sango Mahanty.
The study finds a combination of factors driving this trade in high-risk timber continues: conflicting regulatory powers over the forest sector in Cambodia, power fragmentation between Vietnamese central and provincial governments, large profits generated for Vietnamese and Cambodian businesses, and corruption on both sides of the border.
Key messages of the study include:
At present, Vietnam is the second-largest timber product exporter in Asia (after China), and the fifth largest in the world. The Vietnamese wood processing sector supported roughly 4,500 enterprises and 500,000 workers in 2019, according to Vietnamese government data. The sector is export-oriented, generating nearly US$9 billion in revenues in 2018.
Ever since Vietnam has banned logging in its own natural forests, Vietnam's rapidly expanding wood processing industry has become dependent on imported timber. Once a major source of timber, Laos also implemented a log export ban in 2016. Subsequently, exports to Vietnam diminished. Cambodia has had a log export ban since 1996, but continues to export to Vietnam. Annually, around 500,000 m3 of Cambodian timber still crosses the border into Vietnam each year.
The central government of Vietnam has made a commitment to its international trading partners to stem the imports of illegally harvested timber from countries with high risk of illegal logging, such as Cambodia. The FLEGT Voluntary Partnership Agreement (VPA) between the EU and Vietnam was agreed upon in May 2017 and entered into force in June 2019.
However, Vietnam's recent devolution of regulatory powers to provincial authorities has affected the government's ability to control the cross-border trade from Cambodia. Since the 1990s, the central government has transferred key decision-making powers to provincial governments in areas of fiscal government, cross-border trade, and environmental management. In some cases, provincial authorities have allowed the continued import of high-risk timber as a way to finance their local economic agendas. This dynamic conflicts with the central government's desire for the Vietnamese wood processing industry to only produce legal wood products for export to major markets in the US and Europe, where it is illegal to place illegally sourced timber on the market.
The corruption associated with these timber imports, often involving high-level government officials on both sides of the border, helps facilitate this trade. Corruption involving provincial government officials has also undermined the central government at a time when it is facing a looming public legitimacy crisis due to widespread corruption.
In response, the central government has "performed" corruption crackdowns on officials embroiled in the illegal timber trade in an effort to restore legitimacy, although illegal trade continues. The Vietnamese central government's crackdown of provincial officials involved in corruption associated with the trade is performative, aiming at gaining back political legitimacy eroded by the devolution of powers and widespread corruption at national scale, and has less to do with stemming the import from Cambodia.
"Addressing high-risk timber trade between Cambodia and Vietnam requires political will from central and provincial governments and strong law enforcement from both countries," says lead author Phuc Xuan To. "Unfortunately, we have not seen it yet."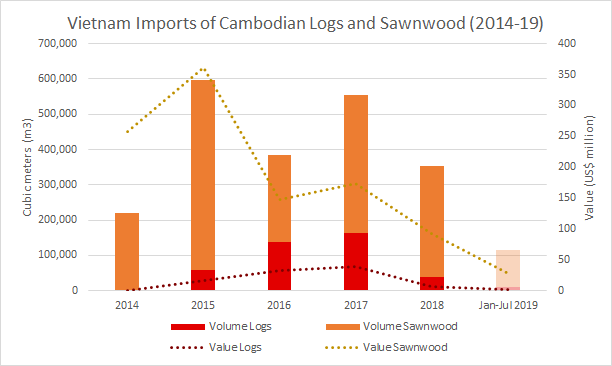 ####
Download the paper from Political Geography.
If you are unable obtain a copy of the paper from Political Geography, please contact Phuc Xuan To at pto@nullforest-trends.org.
########
Additional resources related to Forest Trend's work on Vietnam's timber market dynamics and trade flows:
The Debate over Vietnam's Latest Land Reforms (2019)
Linking Smallholder Plantations to Global Markets (2018)
Regulating the Trade in Illegal Timber: Asian Approaches Compared – State of Play June 2017 (2017)
Vietnam's Imports of Cambodian Logs and Sawnwood from Natural Forests: 2013-2015 (2016)
Vietnam's Wood Villages: Relevance for FLEGT and REDD+ (2015)
Vietnam's Small-Scale Sawmills in the Context of the FLEGT-VPA (2015)
Vietnam's plywood trade with the US and China (2019) [In Vietnamese]
Legality status of the timber products procured by the government in Vietnam: Legality framework, supply and challenges in implementation of VPA FLEGT (2019) [In Vietnamese]
Vietnam's import of timber from Africa as of April 2019 (2019) [In Vietnamese]
The US – China trade war: Opportunities and risks for Vietnam (2019) [In Vietnamese]
Vietnam's import and export of timber and wood products in 2018 (2019) [In Vietnamese]
Foreign direct investment in Vietnamese wood sector (2019) [In Vietnamese]