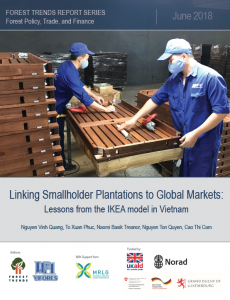 Lessons from the IKEA model in Vietnam
By Nguyen Vinh Quang, To Xuan Phuc, Nguyen Ton Quyen, Cao Thi Cam
View Publication
Export-oriented wood processing companies in Vietnam are increasingly entering into legally-binding contractual relationships with smallholder producers – the country's main source of domestically-grown plantation timber. One of the best examples of this "linkage model" is the partnership between households in Vietnam's mountainous areas and companies that specialize in processing FSC-certified wood products for IKEA. This study assesses the IKEA linkage model, with a particular focus on its economic, social, and environmental impacts. This relationship maximizes the comparative advantage of each party: processing companies provide investment capital, technical capacity, technology, management ability, and a guarantee to buy all (qualified) harvested timber; households provide land and labor.
Researchers found that while the model has created a stable supply of timber for Vietnam's expanding wood processing industry and generated numerous benefits for IKEA, processing companies, and households alike, scaling up may be challenging as the costs of FSC certification are too expensive for most smallholders. While certification is important, we recommend that Vietnam apply a stepwise approach, starting with the production of legal timber (which requires fewer financial resources and cultivation techniques). We recommend that the Vietnamese government:
Continue allocating forestland to households, particularly landless households, to enable more smallholders to link to export markets. Secure and functional forestland tenure is an essential prerequisite for household-company collaboration.
Incentivize households to produce legal timber in the context of emerging consumer country measures to exclude illegally-sourced timber from their markets, and as Vietnam develops its Timber Legality Assurance System (TLAS) under FLEGT-VPA. Expanding the linkage model can ensure steady supply of domestic, legal and sustainable timber in lieu of high-risk imports. Though to date, IKEA still requires FSC timber, households may elect to produce timber that meets legality requirements instead – and still access export markets.
Ensure the effective implementation of contract law, helping ensure smooth collaboration between parties in the linkage model.