Back to Home Page
Democratic People's Republic of Korea
Democratic Republic of the Congo
Lao People's Democratic Republic
Saint Vincent and the Grenadines
United Republic of Tanzania
Sierra Leone
Other Timber Export Restrictions
No
Latest Updates
Click for

latest news from Sierra Leone
April 25, 2022
Last Saturday, President Dr Julius Maada Bio visited the Guma Valley Dam at Mile 13 in Freetown to see the massive deforestation taking place in the area to make way for community settlements, and called ordered the re-establishment of the Western Area Forest Green Belt and an immediate investigation into the activities of the Ministry of Lands and Housing following accusations of maladministration and corruption.
More...
February 27, 2022
Sierra Leone's Minister of Agriculture, Forestry and Food Security, Dr. Abu Bakarr Karim, is personally benefiting from the horrific and most ruinous illegal logging Sierra Leone has ever seen. The ministry is one of the most corrupt in the country, and it is the main driving force behind the current catastrophic food insecurity and the environmental and ecological degradation overtaking Sierra Leone.
More...
Publications
Click for

publications related to Sierra Leone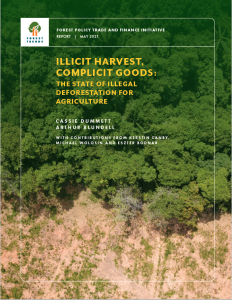 While subsistence agriculture and logging still contribute to deforestation, commercial-scale agricultural expansion is now recognized as by far the single largest driver of deforestation worldwide and thus also of greenhouse gas emissions from land-use change. Several initiatives have quantified how much and where deforestation is driven by commercial agriculture, and even how much of this […]
Key Resources
Click here for a collection of Forest Trends publications related to IDAT Risk, including the full set of Timber Legality Risk Country Dashboards.
Methodology
Timber Data Tool
Click here to access the Global Illegal Logging and Associated Trade (ILAT) Risk assessment tool and to download the Forest Trends User Guide describing the functionality of the ILAT Risk Data Tool.
Export Restrictions
Click here to download a database of forest policy export restrictions.