Back to Home Page
Democratic People's Republic of Korea
Democratic Republic of the Congo
Lao People's Democratic Republic
Saint Vincent and the Grenadines
United Republic of Tanzania
Timber
Other Forest-Risk Commodities
Nigeria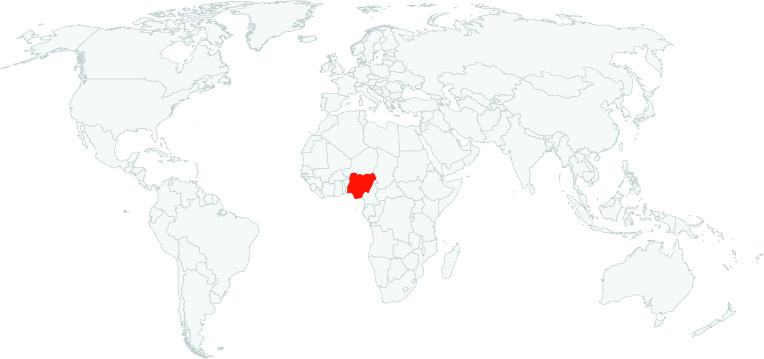 Timber Risk Profile
Higher Risk
Log Export Restriction
Yes
Other Timber Export Restrictions
Yes
Legality Risks
Click for

details on legality risks
FRC LEGALITY RISKS
Nigeria's production of forest-risk commodities is likely to increase in the future – the population is projected to grow from 206 million in 2020 to 400 million by 2050. More than half will live in urban areas with higher temperatures and more extreme weather events due to climate change. Agriculture in Nigeria constitutes 21 percent of its GDP, 36 percent of its employment, and is dominated by smallholders who own 0.5 hectares (ha) of land on average, many of whom live in poverty. Under these economic and demographic pressures, the forest reserves are at high risk of further encroachment by farmers, herders, loggers, and poachers. Political instability and continued use of forests by armed groups could also drive further deforestation. Forest law enforcement lacks capacity and resources, and there remains a lack of effective coordination between control of the wildlife trade, illegal logging, and sustainable forest management.
Nigeria's forest area has decreased by 9% since 2000, including a 12% decrease in forest cover in protected areas, despite legal protections, highlighting the challenge of preventing illegal deforestation.
Agricultural conversion is the main driver of forest loss in Nigeria due to production of beef, millet, rice, cassava, and vegetables, which are mostly sold/consumed domestically.
Export-oriented cash crops, particularly wood products, cocoa, cashews, and sesame, are also associated with an elevated risk of illegal conversion.
Policies governing forest conversion and agricultural production are set by Nigeria's 36 states and are not always publicly available, making it challenging to determine the applicable laws country wide.
Illegal conversion of forest for agriculture is not seen as a priority for law enforcement.
There are reports of violence tied to land grabbing and conversion and widespread reports of commodity theft across Nigeria.
Read more by downloading the Nigeria Timber Legality Risk Dashboard here.
Latest Updates
Click for

latest news from Nigeria
Key Resources
Click here for a collection of Forest Trends publications related to IDAT Risk, including the full set of Timber Legality Risk Country Dashboards.
Methodology
Click here to access the Global Illegal Logging and Associated Trade (ILAT) Risk assessment tool and to download the Forest Trends User Guide describing the functionality of the ILAT Risk Data Tool.
Click here to access the Cattle Data Tool.
Export Restrictions
Click here to download a database of forest policy export restrictions.