Back to Home Page
Democratic People's Republic of Korea
Democratic Republic of the Congo
Lao People's Democratic Republic
Saint Vincent and the Grenadines
United Republic of Tanzania
Ecuador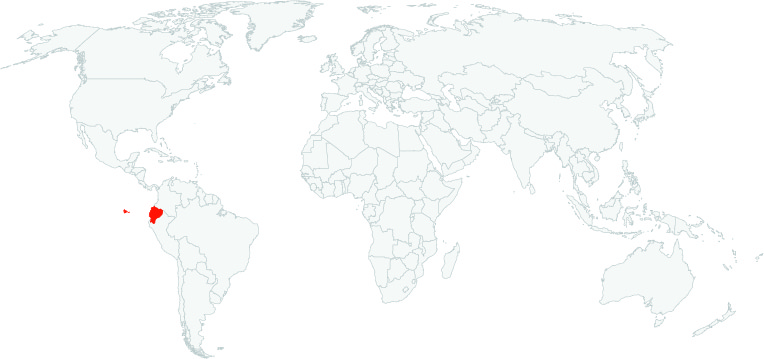 Log Export Restriction
Yes
Other Timber Export Restrictions
No
Latest Updates
Click for

latest news from Ecuador
View More Articles
March 10, 2023
Colombia, Ecuador announce alert system to protect Indigenous Awá from armed groups
Colombia and Ecuador are implementing a system designed to alert about risks of violence against residents who live near the border, many of whom are Awá Indigenous people.
Since last August, thousands of Awá have been forcibly displaced or suffered threats, intimidation, torture or forced recruitment by organized crime groups participating in drug trafficking and illegal mining.
More...
August 17, 2021
Indigenous Amazonian communities bear the burden of Ecuador's balsa boom
Ecuador is the world's biggest exporter of balsa wood, most of it shipped to China. Indigenous communities in Ecuador's Pastaza River Basin say balsa is being logged illegally in their territories. Sources say balsa logging is damaging the ecological integrity of the region and hurting Indigenous communities. The problem has reportedly spread to neighboring Peru, where Indigenous communities accuse Ecuadoran balsa loggers of felling commercially valuable trees and even kidnapping a child.
More...
Key Resources
Click here for a collection of Forest Trends publications related to IDAT Risk, including the full set of Timber Legality Risk Country Dashboards.
Methodology
Click here to access the Global Illegal Logging and Associated Trade (ILAT) Risk assessment tool and to download the Forest Trends User Guide describing the functionality of the ILAT Risk Data Tool.
Click here to access the Cattle Data Tool.
Export Restrictions
Click here to download a database of forest policy export restrictions.