Back to Home Page
Democratic People's Republic of Korea
Democratic Republic of the Congo
Lao People's Democratic Republic
Saint Vincent and the Grenadines
United Republic of Tanzania
Côte d'Ivoire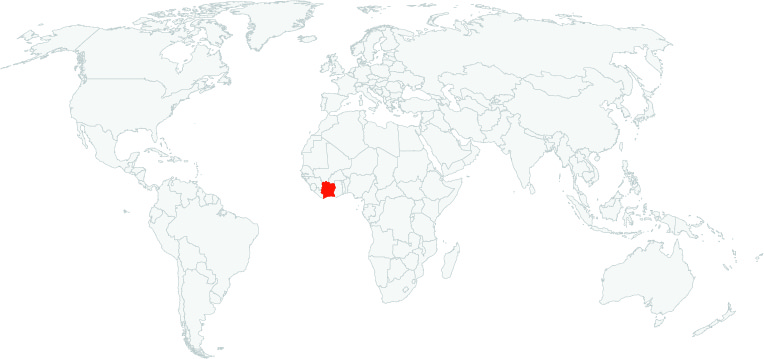 Log Export Restriction
Yes
Other Timber Export Restrictions
Yes
Latest Updates
Click for

latest news from Côte d'Ivoire
View More Articles
November 18, 2021
Ivory Coast: Three logging companies closed for illegal logging
The classified forests of Ivory Coast will enjoy a little respite. Agents of the Ministry of Water and Forests have started a control mission in the classified forests in the south and east of the country. As a result, the activities of three logging companies have been suspended. Illegal logging is a major factor in deforestation in Ivory Coast, where forests now cover only 9.2% of the national territory.
More...
November 18, 2021
In Ivory Coast, a battle to save cocoa-ravaged forests
This cocoa-growing settlement was all but destroyed last year by Ivorian forest agents, leaving farmers to rake through their beans amid broken concrete and other remnants.
"They set the whole village on fire," said Alexis Kouassi Akpoue, describing the day in January 2020 when the agents raided the settlement in Rapides Grah, a protected forest, where he had illicitly planted cocoa with thousands of other farmers. "The next morning at 5 o'clock they sent in the bulldozers."
More...
Key Resources
Click here for a collection of Forest Trends publications related to IDAT Risk, including the full set of Timber Legality Risk Country Dashboards.
Methodology
Click here to access the Global Illegal Logging and Associated Trade (ILAT) Risk assessment tool and to download the Forest Trends User Guide describing the functionality of the ILAT Risk Data Tool.
Click here to access the Cattle Data Tool.
Export Restrictions
Click here to download a database of forest policy export restrictions.