Back to Home Page
Democratic People's Republic of Korea
Democratic Republic of the Congo
Lao People's Democratic Republic
Saint Vincent and the Grenadines
United Republic of Tanzania
Bangladesh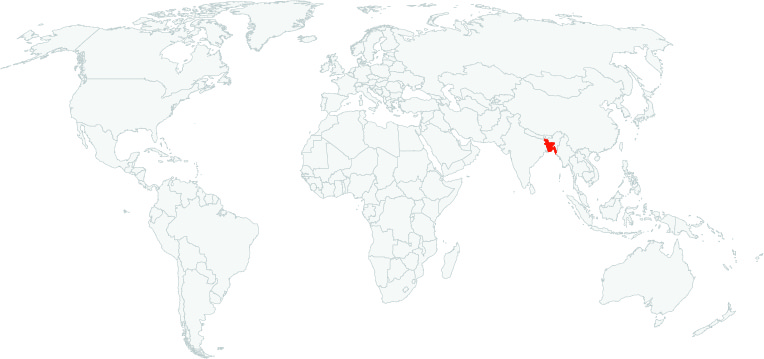 Log Export Restriction
Yes
Other Timber Export Restrictions
No
Latest Updates
Click for

latest news from Bangladesh
January 17, 2023
How much of Bangladesh's protected forests are really protected?
A move last year by the Bangladesh government to erase protections for a swath of reserved forest and award it to the country's soccer federation for a training facility garnered outrage — but is only one example of how protected forests across the country continue to be degraded.
The country has 51 protected areas that hold a combined 815,607 hectares (2.02 million acres) of forest meant to preserve biodiversity and wildlife, but state-sponsored development projects have emerged as one of the key threats to these conservation initiatives.
In some protected areas, such as Teknaf Wildlife Sanctuary, it's firewood collection and farming by local communities that are driving much of the deforestation, prompting calls for the government to come up with alternative fuel and livelihood sources that leave the forests standing.
The government has implemented a co-management approach to conserve forests while providing sustainable benefits to communities, but experts say this needs to be reassessed as deforestation rates are higher inside protected areas than in the surrounding areas where it's implemented.
More...
Key Resources
Click here for a collection of Forest Trends publications related to IDAT Risk, including the full set of Timber Legality Risk Country Dashboards.
Methodology
Click here to access the Global Illegal Logging and Associated Trade (ILAT) Risk assessment tool and to download the Forest Trends User Guide describing the functionality of the ILAT Risk Data Tool.
Click here to access the Cattle Data Tool.
Export Restrictions
Click here to download a database of forest policy export restrictions.