Washington DC, United States
Developing an Infrastructure Fund for the Planet explored how ecosystem service payments and markets in carbon, water and biodiversity are quickly becoming a key solution to the urgent environmental problems of climate change, fresh water pollution, biodiversity loss, soil erosion, and destruction of our coastal and marine systems.
Moderated sessions among policy makers, major financial institutions, business leaders, the environmental community and indigenous groups from within the region and around the world discussed the current state of ecosystem markets and their many challenges, and pointed to some creative solutions. These discussions, in addition to breakout sessions, shed some light on bridging the gap between large-scale investment interest and local capacity for projects, the right balance between the marketplace and regulation, the role for land conversion and the ecosystem services in relation to escalating energy and food demand, and the gap between the beneficiaries of these services (often affluent urban dwellers and businesses) and the low-income rural producers.
The final panel session explored how to develop an infrastructure fund for the planet both metaphorically and concretely. How much investment will it take to protect the planet's natural infrastructure – our forests, our coral reefs, sea grasses and mangroves, our rivers and wetlands, our biological diversity? The nascent area of environmental investment has enormous scope, demonstrated by the 65 billion dollar, three-year young carbon market. But today these ecosystem services are dwarfed by capital flows into infrastructure and development, agribusiness and energy projects, all drawing down this natural capital. What are the emerging opportunities and pathways to channel much-needed investment into our natural infrastructure? How do we measure the risk of the low-income communities that will suffer disproportionately from the impacts of climate change? How do we measure the long-term profits of a healthier planet to society?
This meeting was Katoomba's first major public event in Washington, DC. Katoomba's goal is to create an ongoing effort to stimulate and nurture ecosystem market development, and to ensure that capacity is built so these new markets deliver real conservation outcomes and benefits to local communities and developing countries.
Co-Hosts
The conference was hosted by The Katoomba Group, Forest Trends, and the Smithsonian Institution.
THE KATOOMBA GROUP seeks to address key challenges for developing markets for ecosystem services, from enabling legislation to the establishment of new market institutions, to strategies of pricing and marketing, and performance monitoring. It seeks to achieve the goal through strategic partnerships for analysis, information-sharing, investment, market services and policy advocacy. The Katoomba Group includes over 180 experts and practitioners from around the world representing a unique range of experience in business finance, policy, research and advocacy.
http://www.katoombagroup.org
FOREST TRENDS is an international non-profit organization that works to expand the value of forests to society; to promote sustainable forest management and conservation by creating and capturing market values for ecosystem services; to support innovative projects and companies that are developing these new markets; and to enhance the livelihoods of local communities living in and around those forests. We analyze strategic market and policy issues, catalyze connections between forward-looking producers, communities and investors, and develop new financial tools to help markets work for conservation and people.
https://www.forest-trends.org
SMITHSONIAN INSTITUTION is one of the unique organizations in the world. Founded in 1854 for the "increase and diffusion of knowledge" it now comprises 19 museums and galleries, globally significant research organizations ranging from the Smithsonian Astrophysics Observatory to the Smithsonian Tropical Research institute. Its vast collections, over 143 million objects, are primarily a research tool, helping scholars understand the past and the present to explain the patterns and processes of nature and human organization. From its inception it has been looking at the concerns of "ecosystem services" with major research and outreach programs on weather, nature, the cosmos, and human civilization and evolution. Current research programs at the National Museum of Natural History, the National Zoo, the Smithsonian Environmental Research Center, the Center for Folklife Programs and Cultural History and the Smithsonian Tropical Research Institute all bring new data, information and insights into ecosystem services.
http://www.si.edu
Partners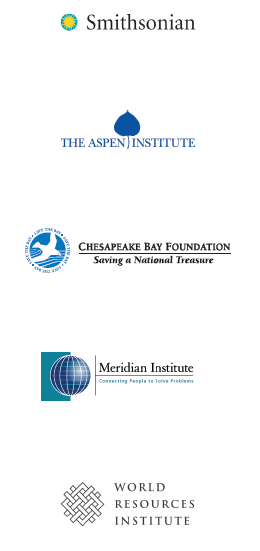 Sponsors







Private Meeting
Private Katoomba Meeting
How to Design and Implement Market Mechanisms to Improve Water Quality Throughout the Chesapeake Bay Watershed
The Aspen Institute Wye River Conference Center
June 11-12, 2008
---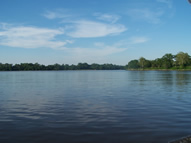 ---
Presentations
A Green Thumb for the Invisible Hand
Ricardo Bayon
What is Happening in Latin American "Water Markets"?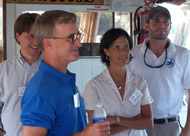 Marta Echavarria
Intro to the Voluntary Carbon Markets
Katherine Hamilton
Create and Manage Trusted Environmental Credits
Joe Kerecman
The Green Exchange
Brad Leach
PES and the Water Pricing Strategy & Blue Ridge Mine & SAB Miller – A Step in the Right Direction
Christo Marais
Review of Water Quality Cap and Trade Programs
Dan Nees
Ecosystem Markets in the Chesapeake: the Bay Bank
Eric Sprague, Will Price, and James Remuzzi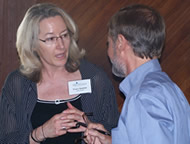 Proposal: A Supply Chain Certification Program
Group 1
Grass Roots: Green Lawn, Clean Water
Group 2
Chesapeake Bay Environmental Insurance Fund
Group 3
---
Resources from the Ecosystem Marketplace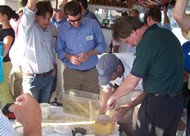 Water Trading: The Basics
The Ecosystem Marketplace Team
Environmentalists Sound Off on EPA Wetland Regs
Alice Kenny
US Water Trading: The Infrastructure
Mark S. Kieser and "Andrew" Feng Fang
US WQT: Growing Pains and Evolving Drivers
The State of the Market Today
Mindy Selman, Suzie Greenhalgh, Cy Jones, Evan Branosky and Jenny Guiling
Voluntary Water Markets: The Demand Dilemma
Who you are, how you pollute determines why you participate in WQTs
Rob Luke
Pennsylvania Water Deal: Blip or Boom
Alice Kenny
The Interconnectedness of Chesapeake Ecosystem Markets
Douglas Lashley
Ohio Water Trading: Driving Without Drivers
A conversation with the Miami Conservancy District's Douglas "Dusty" Hall
Steve Zwick
Chesapeake Bay Water Scheme Gains Traction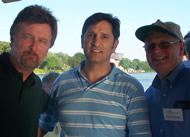 Steve Zwick
Uganda Water Markets: What Businesses Know (and Don't)
Alice Ruhweza
The Matrix: Mapping Ecosystem Service Markets
Nathaniel Carroll & Michael Jenkins
---
Other Resources
Bay stakeholders taking first steps to offset 'nutrient footprints'
Karl Blankenship