The impact of BBOP is best reflected in its tools and other publications (see BBOP Resources), and in its contribution to changing international best practice related to No Net Loss and Net Gain of biodiversity.
" BBOP has played a critical role establishing and describing a globally applicable tool for environmental conservation and the reduction of impacts from development projects. Testimony of its utility is how frequently it is referenced and can be seen in the safeguards and policies of international organizations such as IUCN, the World Bank, and the United Nations. This Overview and the tools it contains are a key resource"
— STEVE EDWARDS, IUCN
" BBOP has been hugely valuable, providing a robust multi-stakeholder forum aimed at establishing consensus-based best practices on mitigation, including biodiversity offsets"
— STEVEN DICKINSON, TOTAL
" For Ambatovy, the incorporation of the BBOP offsetting principles in the design of its mitigation measures (using the associated tools) was central to building stakeholder acceptance, the permitting of the project and ongoing monitoring of operations"
— ANDREW MACKENZIE, AMBATOVY
" BBOP has contributed immensely to the development of the concept of biodiversity offsets over the years and I salute its legacy in environmental management! The BBOP materials have been useful to the government of Uganda in the review of environmental legislation"
— CHRISTINE AKELLO, NATIONAL ENVIRONMENT MANAGEMENT AUTHORITY (NEMA)
" BBOP has changed the mitigation landscape through its work — and introduced a whole new perspective with higher aspirations"
— SUSIE BROWNLIE, INDEPENDENT CONSULTANT
" I credit BBOP with making a real change in the way people think about development across a wide spectrum and it has undoubtedly been a paradigm changer in the corporate world"
— MARK PIZEY, FORMER CHAIRMAN OF THE BBOP BUSINESS ADVISORY COMMITTEE
" BBOP has been a real eye-opener for me and has certainly framed how I have approached my own work in the past decade or so"
— BOB EDMONDS, SLR
" BBOP's work has been and will continue to be absolutely fundamental to all we do"
— TOM BUTTERWORTH, WSP
" Seminal work and core references in both business and conservation communities of practice. An amazing achievement and incredible legacy"
— PIPPA HOWARD, FFI
" A fundamental part of the recent revolution in private sector biodiversity management"
— LORI ANNA CONZO, IFC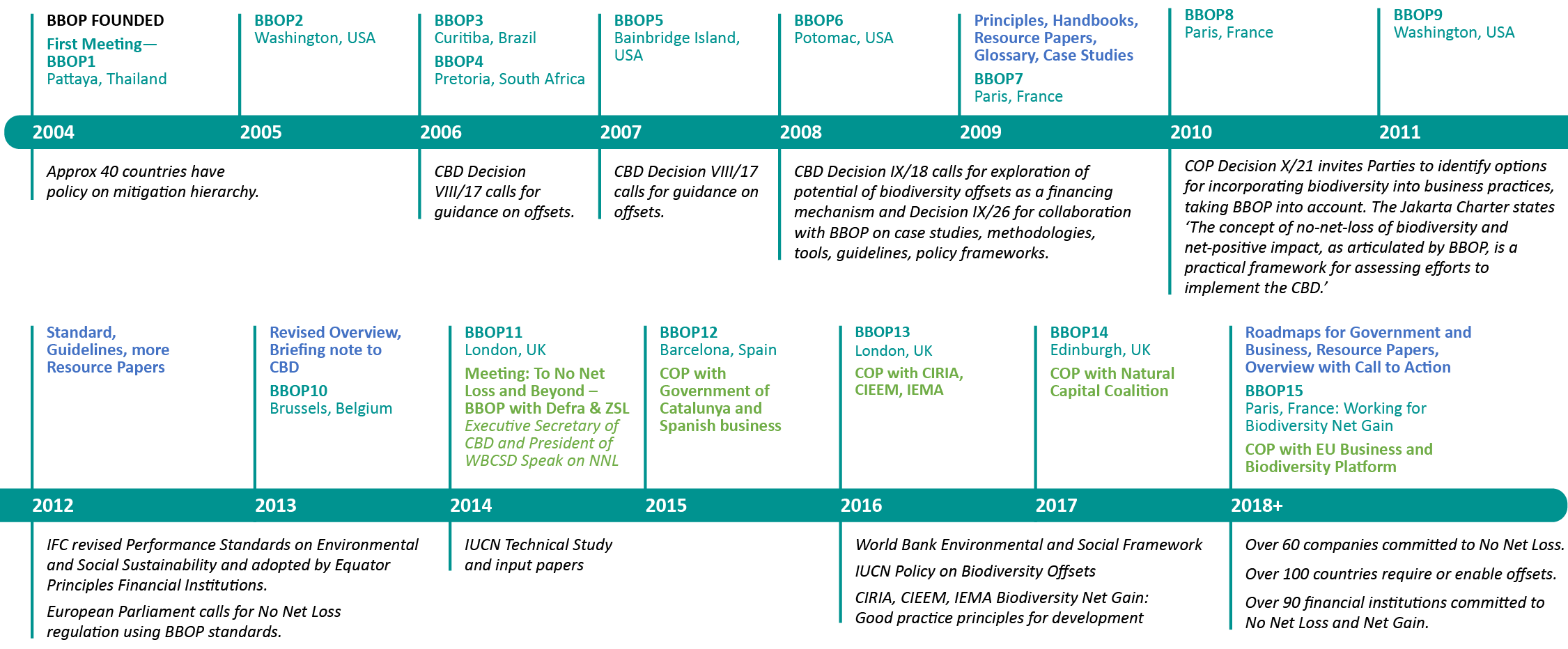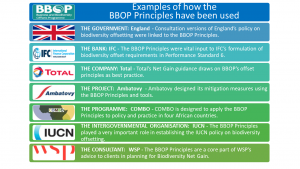 Since 2004, we have made significant strides by establishing more rigour in the application of the mitigation hierarchy, and promoting plans for defined conservation outcomes like No Net Loss and Net Gain. We have created tools to mainstream these approaches in key economic decision-making, such as spatial planning and licensing. BBOP's work is seen in the corporate commitments, governments' laws and policies and safeguards of lending institutions that reflect the BBOP principles, Standard and other products. It is also felt in the 'Community of Practice' BBOP has created and fostered, with over 2000 professionals sharing and spreading experience and best practice worldwide.
BBOP has also produced this final 'Call to Action'. This one-page document urges action by the international community, governments, companies and civil society to step up efforts to reduce biodiversity loss and improve the standard of mitigation measures, including biodiversity offsets. The aim is to use the Call to Action to encourage progress among these groups, and also as a communication and awareness raising tool. Please sign it here