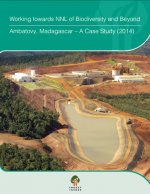 A Case Study (2014)
By Amrei von Hase, Andrew Cooke, Aristide Andrianarimisa, Rivolala Andriamparany, Vanessa Mass, Robin Mitchell, Kerry ten Kate - Forest Trends, Ambatovy, Wildlife Conservation Society, Ambatovy, Ambatovy, The Biodiversity Consultancy, Forest Trends
View Publication
Ambatovy joined the Business and Biodiversity Offsets Programme (BBOP) in 2006 as a pilot project. In 2009,
Ambatovy, together with BBOP, published a case study on the company's biodiversity management and offset
work up to that point (available at https://www.forest-trends.org/documents/fi les/doc_3118.pdf). The present
document serves as an update on Ambatovy's progress achieved since then and following a second-party
evaluation (pre-audit) against the BBOP Standard on Biodiversity Offsets (BBOP, 2012) and the International
Finance Corporation's Performance Standard 6 (IFC, 2012). For more detail and a history of the company's
work in applying the mitigation hierarchy and biodiversity offsetting, it is useful also to refer back to the 2009
original case study.