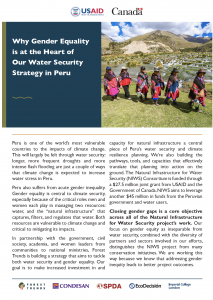 By Cheyenne Coxon, Genevieve Bennett, and Gena Gammie
View Publication
In partnership with the Peruvian government, civil society, academia, and women leaders from communities to national ministries, Forest Trends is building a strategy that aims to tackle both water security and gender equality.
Our goal is to make increased investment in and capacity for natural infrastructure a central piece of Peru's water security and climate resilience planning. We're also building the pathways, tools, and capacities that effectively translate that planning into action on the ground. The Natural Infrastructure for Water Security (NIWS) Consortium is funded through a $27.5 million joint grant from USAID and the Government of Canada. NIWS aims to leverage another $45 million in funds from the Peruvian government and water users.
Closing gender gaps is a core objective across all of the Natural Infrastructure for Water Security project's work. Our focus on gender equity as inseparable from water security, combined with the diversity of partners and sectors involved in our efforts, distinguishes the NIWS project from many conservation initiatives. We are working this way because we know that addressing gender inequity leads to better project outcomes.