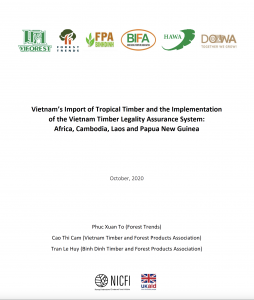 By Phuc Xuan To, Cao Thi Cam, Tran Le Huy
View Publication
On October 30, 2020, Vietnam started to implement its Timber Legality Assurance System (VNTLAS) with strict guidelines on how government authorities and companies would ensure the legality of Vietnam's imported timber from high-risk sources.
In this joint report between Forest Trends and the main timber trade associations of Vietnam, we explain the criteria and mechanisms described by the VNTLAS Decree, how the Government would develop the VNTLAS list of "high-risk geographies" and "high-risk species," and how such a list can be used by Vietnamese Customs to identify and handle suspected high-risk shipments of tropical timber.
Finally, we provide an update on Vietnam's tropical timber imports from Africa, Laos, Cambodia, and Papua New Guinea, Vietnam's most significant sources of tropical timber. We then apply the VNTLAS criteria to assess the risks associated with these imports. Our results suggest that most tropical timber imported by Vietnam originates from high-risk geographic areas when they are evaluated through the VNTLAS criteria. Similarly, we found that high-risk timber species comprise a relatively high proportion of imports from these regions, especially those arriving from Cambodia and Laos.