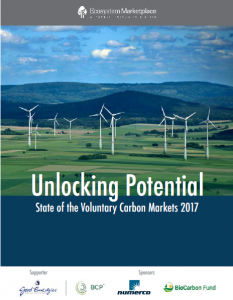 Unlocking Potential
By Kelley Hamrick, Melissa Gallant
View Publication
As of 2016, offsets equivalent to 1.1 billion metric tonnes of carbon dioxide emissions (BtCO2e) have been transacted voluntarily – through sales to governments, companies, and individuals as well as intermediary brokers – according to the latest annual State of Voluntary Carbon Markets report from Forest Trends' Ecosystem Marketplace. Entitled "Unlocking Potential," the new report and its two accompanying mini-reports find that:
Voluntary buyers in 2016 paid $191.3 million (M) to offset 63.4 million metric tonnes of CO2 (MtCO2e);
Concerned citizens, corporations, and sub-national governments voluntarily purchased carbon offsets from projects that reduce emissions through forest protection, renewable energy, and other means;
Demand for offsets did not meet supply, as transaction volumes on the voluntary markets shrank 24% from 2015 to 2016 and 56.2 MtCO2e were left unsold – some from previous years.
Two companion mini-reports take a closer look at two aspects of the voluntary carbon market. The Regional Analysis examines the geography of voluntary carbon markets – where offsets are produced, how prices, project types, and standards vary by location, as well as developments shaping the carbon market in each region. The Buyer's Analysis looks at who buys offsets, where they are located, why they buy offsets, and how they choose which offsets to purchase.
DOWNLOAD THE REPORT     |     DOWNLOAD THE OVERVIEW
DOWNLOAD THE REGIONAL ANALYSIS     |     DOWNLOAD THE BUYERS ANALYSIS      
Events
   

Watch the webinar
Tuesday, October 31, 2017 – Webinar on the Buyers Analysis
DOWNLOAD THE SLIDE PRESENTATION
Tuesday, June 6, 2017
Wednesday, June 7, 2017
December 5, 2017, 3:45-4:45 pm: State of Forest Carbon Finance: Voluntary Forest Carbon Markets
Lead report author Kelley Hamrick shares key findings, with guest commentary from Christiaan Vrolijk of Natural Capital Partners, Claire Wigg of ZeroMission, and Julian Ekelhof of CO2OL.
Tuesday, January 9, 2018, 7-8 pm EST /  Wednesday, January 10, 0:00 – 1:00 am GMT, 11 am – 12 pm AEDT:
Lead author Kelley Hamrick presents Oceania offsetting trends from our new reports, and the following panelists provide on-the-ground insights about what is happening in Australia, New Zealand and the Pacific Islands: Ollie Belton of Carbon Forest Services, Tim Moore of Biodiverse Carbon Conservation, and Sean Weaver of Ekos.
Tuesday, January 16, 2018 2018, 1 – 2 pm EST, 6 – 7 pm GMT:
This webinar presents offsetting trends in Latin America based on our new reports (State of Forest Carbon Finance 2017and State of the Voluntary Carbon Markets 2017). The following panelists will provide on-the-ground insights about what is happening in Colombia and Mexico:
•            Mariana Ayala Calva of MÉXICO2,
•            Roberto Gómez Charry of Fundación Natura, and
•            Gareth Turner of Numerco.
Tuesday, January 23, 2018 at 5-6 pm GMT, 12-1 pm EST:
In this webinar, we present carbon offsetting trends in Canada and the United States from our new reports, and the following panelists provide on-the-ground insights about what is happening in Alberta, British Colombia, California, Oregon, Washington, and more:
•             Phil Cull of NatureBank,
•             Bill Drumheller of Washington, Department of Ecology, State of Washington,
•             Alastair Handley of Carbon Credit Solutions, and
•             Sheldon Zakreski of The Climate Trust.
SELECT MEDIA COVERAGE
Supporter: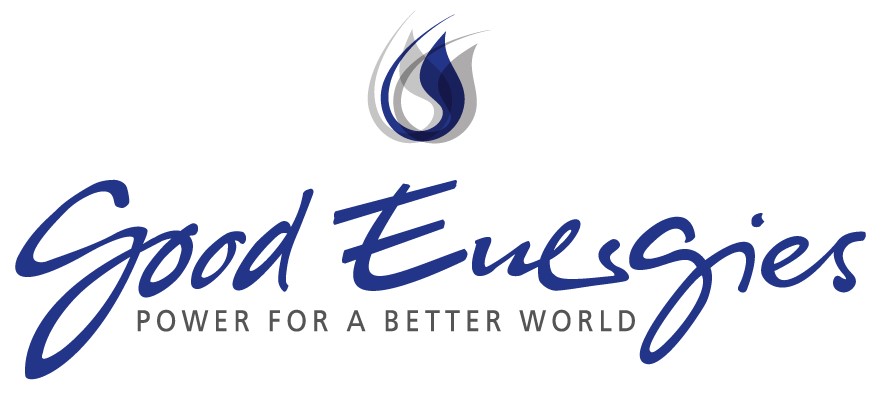 Sponsors:
We also would like to thank the following organizations for their support: