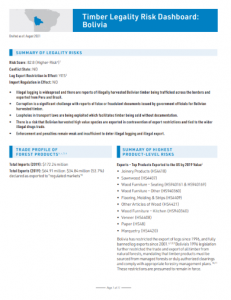 By Forest Trends
View Publication
Bolivia's forest area is estimated at 50.8 million hectares (40 percent of its territory) mainly located in the east and north of the country. Bolivia has seen a 9.5 percent decrease in forest cover since 2000, with soaring rates of forest destruction widely reported in 2019 and 2020. Bolivia became the third highest country globally for total area of forest destruction in 2020 losing 277,000 hectares, only surpassed by Brazil and the Democratic Republic of the Congo.
Around two-thirds of the deforestation in Bolivia is reportedly for conversion for industrial agriculture, with hotspots in southeast Bolivia where fires have raged through the drier Chiquitano and Chaco forests. Government efforts to diversify country exports contributed to the soaring rates of forest loss, such as a supreme decree in July 2019, which authorized the expansion of the agricultural frontier in Beni and Santa Cruz departments and allowed for new burning for agricultural purposes.
Bolivia's timber industry contribution to the country's GDP and export earnings is relatively small, particularly compared with other countries in the region. Timber product exports started to decline in 2011 and dropped 50 percent relative to 2011 by 2016, but since then both volume and value of exports have increased again, with new markets emerging in 2019 and 2020. The number of productive forest units dropped around 2016, as did the area of certified forest.