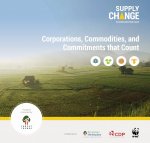 A transformational resource for businesses, investors, governments, and the civil society organizations that support and hold them accountable
By Molly Peters-Stanley, Stephen Donofrio, Ben McCarthy - Ecosystem Marketplace, Ecosystem Marketplace, Ecosystem Marketplace
View Publication
The Issue
Commercial agriculture drives at least two-thirds of tropical deforestation. The worst of these forest impacts come from a few agricultural commodities – palm oil, soy, timber & pulp, and cattle – which are valuable inputs to millions of consumer products, from snack foods to shampoos to clothing to paper to housing materials.
The Response
Businesses, investors, and governments are publicly committing to reverse their role in degrading the world's critical ecosystems. But until now, market information that minimizes uncertainty and positively positions these choices has been scarce.
In response, Forest Trends introduces the Supply Change project as a platform for real-time news, data, and analysis that catalogues and contextualizes global progress toward these targets. Supply Change aims to answer questions like, "How are firms responding to investor inquiries about forest risk – and are they delivering on their promise?" "How do my company's procurement policies stack up against competitors?" "How does civil society enable target achievement?"
The Partners
Supply Change is convened by Forest Trends, a Washington DC-based NGO seeks to shift the economic paradigm towards recognizing the value in all natural ecosystems. Current Strategic Partners include Ecosystem Marketplace, CDP and WWF. These organizations have joined Forest Trends with a common vision that Supply Change will empower companies to pursue transparency, action, and leadership to mitigating their environmental impacts through improved commodity value chain management.
DOCUMENTS
Corporations, Commodities, and Commitments that Count – Full Report
Press Release
Press Release: English [PDF]
WATCH THE LAUNCH EVENT
SELECT MEDIA COVERAGE