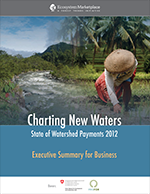 By Genevieve Bennett, Nathaniel Carroll - Forest Trends' Ecosystem Marketplace, Forest Trends' Ecosystem Marketplace
View Publication
This Executive Summary for Business builds upon data and analysis from Charting New Waters: State of Watershed Payments 2012. In Charting New Waters, we track the size, scope, and outlook for investments in watershed services and in the ecological infrastructure
from which they flow, focusing on transactions between investors and watershed service providers.
This Executive Summary reviews findings from this report that are of specific relevance to private sector decision-
makers to offer a benchmark for business investments in nature-based solutions to the water crisis. Both
this Executive Summary and the full report rely on proprietary data collected via surveys, interviews, and desk
research covering over 300 watershed investment programs in more than 30 countries.