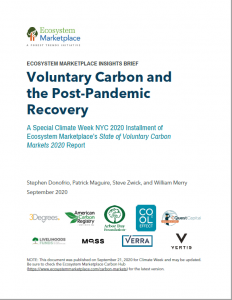 A Special Climate Week NYC 2020 Installment of Ecosystem Marketplace's State of Voluntary Carbon Markets 2020 Report
By Stephen Donofrio, Patrick Maguire, Steve Zwick, and William Merry
View Publication
In this special Climate Week NYC installment of the State of Voluntary Carbon Markets 2020, we discuss key insights and findings garnered from Forest Trends' annual 2020 Ecosystem Marketplace Carbon Survey cycle.
Key Findings from this installment:
Corporate carbon-neutral pledges fueled a record transaction volume of at least 104 MtCO2e in 2019, which is an increase of 6 percent over 2018. Figures may be adjusted with data from new respondents.
Volume has been surprisingly strong in 2020. Anecdotal evidence based on interviews with market participants indicates it may even exceed that of 2019, despite the COVID-19 pandemic. Broader pledges have compensated for the loss of volume from the aviation and tourism sectors.
Average offset prices remained flat in 2019, but with wide variance by type. Prices for offsets associated with Nature-Based Solutions (NBS) and Natural Climate Solutions (NCS), for example, increased 30 percent, while prices for offsets from renewable energy decreased 16 percent.
Price and volume moved in opposite directions for these leading offset types. Agriculture, forestry, and other land use (AFOLU) volume dropped 28 percent and renewable energy volume surged by 78 percent.
Despite the lower volume, the market value of AFOLU offsets was more than twice that of Renewable Energy, and demand for offsets associated with forest management in developing countries (i.e., REDD+) remains especially strong.