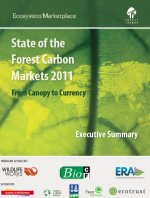 From Canopy to Currency - Executive Summary
By David Diaz, Katherine Hamilton, Evan Johnson - Ecosystem Marketplace, Ecosystem Marketplace
View Publication
This second annual State of the Forest Carbon Markets tracks, reports, and analyzes trends in global transactions of emissions reductions generated from forest carbon projects. The data and analysis that follow cover forest carbon activity in compliance carbon markets as well as voluntary carbon markets—such as the voluntary Over-the-Counter (OTC) market and the Chicago Climate Exchange (CCX).
The report finds that growing from already record-breaking years in 2008 and 2009, respondents reported a total of 30.1 million metric tonnes of carbon dioxide equivalent (MtCO2e) contracted across the primary and secondary markets in 2010. The estimated total value of transactions in 2010 was $178 million. The historical scale of the forest carbon markets climbed to 75 MtCO2e, valued at an estimated $432 million with projects impacting more than 7.9 million hectares in 49 countries from every region of the world.
The average price for offsets across the primary forest carbon markets rose from $3.8/tCO2e in 2008, to $4.5/tCO2e in 2009, and up to $5.5/tCO2e in 2010.
The 2010 surge in the forest carbon market was fueled to a great extent by contracting from large Reduced Emissions from Deforestation and Forest Degradation (REDD) projects which supplied 19.5 MtCO2e out of the total 29.0 MtCO2e contracted in the primary market.