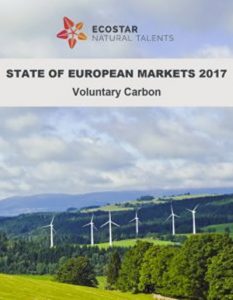 Voluntary Carbon, Watershed Investments, and Biodiversity Offsets and Compensation
Ecosystem Marketplace, an initiative of Forest Trends, is pleased to present three original new reports, co-authored with Etifor as part of the ECOSTAR project, benchmarking for the first time the size, scope, and scale of ecosystem market mechanisms in Europe for voluntary carbon, watershed investments, and biodiversity offsets and compensation.
Healthy natural habitats and sustainably managed farms and forest lands don't just provide us with food, timber, and other raw materials. They are the source of a wide range of benefits that society depends on—from reliable flows of clean water to productive soil to carbon sequestration. One promising approach to sustaining nature's benefits is to create market-based mechanisms to reward good stewardship and create a green economy that generates value not just from natural resource use, but also natural resource protection and conservation.
This green economy is already being built in Europe. Innovative initiatives protect more than 13.5 million hectares—an area larger than Greece—through market mechanisms, transacting an estimated €5.8 billion every year.
DOWNLOAD THE CARBON REPORT      |      DOWNLOAD THE WATERSHED REPORT 
DOWNLOAD THE BIODIVERSITY REPORT
EVENTS
Forest Trends at the ECOSTAR launch event in Rome, June 15th, 2017.
Presentation: Ecosystem Markets: European Outlook [Download]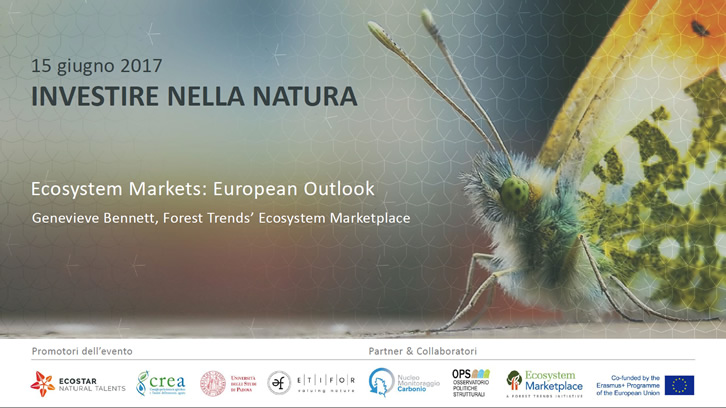 MEDIA
Article: New Initiative Lends A Helping Hand To Europe's Green Entrepreneurs
PARTNERS
PROMOTED BY:

IN PARTNERSHIP WITH:

SUPPORTER:

* This project has been funded with support from the European Commission. This publication reflects the views only of the authors, and the Commission cannot be held responsible for any use which may be made of the information contained therein.