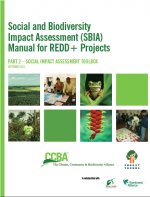 Social Impact Assessment Toolbox
By Michael Richards - Forest Trends
View Publication
This Toolbox of social impact assessment (SIA) methods and support materials comprises Part 2 of the Social and Biodiversity Impact Assessment (SBIA) Manual of REDD+ Projects. It needs to be read or referred to in conjunction with Part 1 of the SBIA Manual.
The Social Toolbox introduces a range of SIA methods with the aim of helping project proponents decide which ones to use. Most of the source materials, which are listed at the end of each section, are readily available on the internet.
Based on an earlier analysis of the literature and other reviews, as well as the experience gained from three SIA case study applications and two SIA training workshops, the main focus in this Toolbox is on the methods that are most likely to form part of a cost-effective and practical approach to meeting the Climate, Community & Biodiversity (CCB) or other multiple benefit carbon Standards.