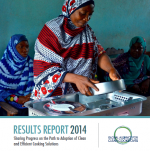 Sharing Progress on the Path to Adoption of Clean and Efficient Cooking Solutions
By Global Alliance for Clean Cookstoves, Ecosystem Marketplace
View Publication
This report provides a snapshot of how the partners of the Global Alliance of Clean Cookstoves are progressing in its strategic vision of facilitating the adoption of 100 million cookstoves by 2020 as reported by our partners.
Two important features of the 2014 results report are:
This year's report integrates information from the Alliance's Clean Cooking Catalog, a global database of cookstoves, fuels, and performance data. Test results and reported stove and fuel characteristics were used to estimate the degree to which clean and efficient cookstove and fuel volumes are scaling up by IWA performance tier, interim guidelines for stove and fuel performance.
The Alliance continues to strengthen its efforts to track the status of fuel production, accessibility, distribution, and use, in order to better assess health and environmental benefits.