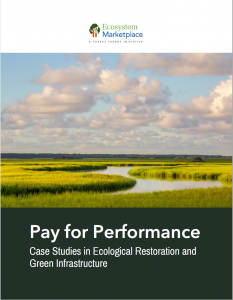 Case Studies in Ecological Restoration and Green Infrastructure
By Steve Zwick
View Publication
It's been a quarter of a millennium since a small part of Prince George's County, Maryland, was peeled off to become part of the United States' new capital city of Washington, DC. The change in jurisdiction went unnoticed by the water cycle. Stormwater on both sides of the boundary spilled into the shared Chesapeake Bay even then. Two hundred and fifty years later, there is much more stormwater carrying pollutants into the Bay, thanks to the spread of people, parking lots, and asphalt across the landscape.
Fortunately, both the County and the District of Columbia are pursuing a similar solution. Both are expanding their use of rain gardens, bioswales, and other forms of green infrastructure (GI) to reduce the flows of untreated runoff, and both jurisdictions are also now experimenting with new ways of financing and implementing those improvements. Washington, DC, for example, recently issued the world's first environmental impact bond (EIB), which pays investors based on how well the new green infrastructure performs. Prince George's County has farmed out large parts of its green infrastructure expansion to a private company that gets paid based on the quality and speed of its work, as well as the number of locals it trains, through a process called "full-delivery contracting."
EIBs and full-delivery contracting are two examples of a new approach to infrastructure development called "pay for success" (PFS) or "pay for performance" (P4P) – umbrella terms for government-led programs that incorporate performance metrics into the way they engage private-sector lenders and contractors.
This report profiles seven case studies using pay for performance approaches. We selected cases that 1) offer new insights, 2) are operational or in final planning, and 3) illustrate the diverse range of strategies currently being deployed.