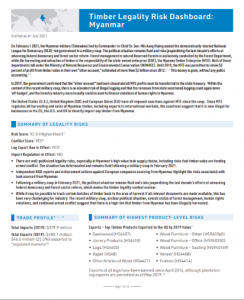 By Forest Trends
View Publication
On February 1, 2021, the Myanmar military (Tatmadaw) led by Commander-in-Chief Sr. Gen. Min Aung Hlaing ousted the democratically-elected National League for Democracy (NLD)-led government in a military coup. The political situation remains fluid and risks jeopardizing the last decade's efforts at advancing federal democracy and forest sector reform. Forest management in natural Reserved Forests is exclusively conducted by the Forest Department, while the harvesting and extraction of timber is the responsibility of the state-owned enterprise (SOE), the Myanma Timber Enterprise (MTE). Both of these departments fall under the Ministry of Natural Resources and Environmental Conservation (MONREC). Until 2019, the MTE was permitted to retain 55 percent of profit from timber sales in their own "other account," estimated at more than $2 billion since 2012. This money is gone, without any public accounting.
In 2019, the government confirmed that the "other account" had been closed and all MTE profits must be transferred to the state treasury. Within the context of the recent military coup, there is an elevated risk of illegal logging and that the revenues from state sanctioned logging could again move 'off-budget', and the forestry industry more broadly could be used to finance violations of human rights in Myanmar.
The United States (U.S.), United Kingdom (UK) and European Union (EU) have all imposed sanctions against MTE since the coup. Since MTE regulates all harvesting and sales of Myanmar timber, including exports to international markets, the sanctions suggest that it is now illegal for businesses in the EU, the U.S. and UK to directly import any timber from Myanmar.