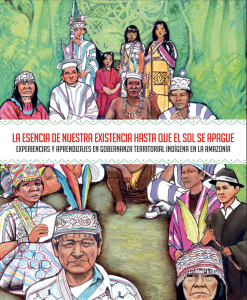 Until the sun stops shining: Experiences and lessons in indigenous territorial governance in the Amazon
View Publication
Hay muchas voces detrás de las luchas que enfrentan hoy los pueblos indígenas en la Amazonía, y ofrecen lecciones importantes para hacer valer sus derechos sobre sus tierras y recursos. Esta sabiduría debe estar disponible para las generaciones actuales y futuras de líderes indígenas. Este nuevo libro captura las voces de 22 líderes indígenas de Colombia, Ecuador y Perú, algunos de los cuales participaron en el Programa de Formación de Gobernanza Territorial Indígena (PFGTI) de Forest Trends.
El libro trata cerca de la gobernanza territorial, un tema multifacético que involucra género, cultura, economía indigena, y justicia indigena ancestral. También contiene relatos de primera mano de los desafíos y experiencias de liderazgo que se compartieron en el taller de Capitalización de Experiencias organizado por Forest Trends y Servindi en noviembre pasado, con el apoyo de NORAD NICFI.
There are many voices behind the struggles that indigenous people in the Amazon face today, and they offer crucial lessons in asserting their rights over their lands and resources. This wisdom needs to be made available to current and upcoming generations of indigenous leaders. This new book captures the voices of 22 indigenous leaders from Colombia, Ecuador, and Peru, some of whom participated in Forest Trends' Capacity Building Program on Indigenous Territorial Governance (PFGTI).
The book revolves around territorial governance, a multifaceted topic that involves gender, cultural revival, livelihoods, and communal economy, and indigenous restorative justice systems. It also contains first-hand accounts of leadership challenges and experiences that were shared in the Capitalization of Experiences workshop hosted by Forest Trends and Servindi last November, with support from NORAD NICFI.