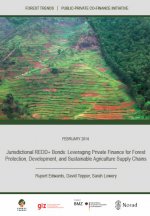 View Publication
REDD+ finance is designed to conserve and enhance forests across the developing world, but it needs a jump-start of its own – especially at the national and sub-national levels. Jurisdictional REDD+ Bonds could be part of the solution.
Many jurisdictions (municipalities, departments, states, countries) have reduced their rates of deforestation and are making progress on REDD+ programs that monitor, report, and verify their emissions reductions, establish the institutional infrastructure necessary to support REDD+, and protect indigenous and other traditional communities' rights to ecosystem services including carbon.
Investment is needed in both forest conservation and improved agriculture productivity that can supply markets with zero net deforestation commodities even as global demand for food, fuel and fiber rises That will,require capital NOW in order to meet longer-term REDD+ goals.
Jurisdictional REDD+ Bonds: Leveraging Private Finance for Forest Protection, Development, and Sustainable Agriculture Supply Chains discusses a possible solution to this problem. This brief outlines a financing structure that has the potential to help integrate REDD+, the efforts of governments, farmers, indigenous communities, NGOs and commodity buyers and source additional upfront investment from mainstream capital markets.—by linking bond cash-flows to public Results-Based Financing programs from governments in advanced economies or via the UN Green Climate Fund.