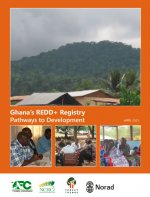 Pathways to Development
By Rebecca Ashley Asare, Yaw Kwakye, Ernest Foli - Forest Trends, Ghana Forestry Commission, Forestry Research Institute of Ghana
View Publication
The emerging mechanism of Reducing Emissions from Deforestation and Forest Degradation (REDD+) presents opportunities for developing countries to contribute to climate change mitigation and benefit from associated financial flows. Ghana has been an active participant in this international process aimed at mitigating climate change, which poses a major threat to humankind on a global scale. In the quest to contribute to the realization of the goals and objectives of REDD+, the Government of Ghana, through designated state institutions, has been collaborating closely with key international and local partners to implement this evolving global mechanism.
The Forest Carbon Partnership Facility of the World Bank is currently providing support in the sum of US$3.4 million for the implementation of a 4-year REDD-Readiness Preparation Proposal (R-PP). For REDD+ to work it must enable results-based payments, either through markets or fund-based transactions, and the establishment of a carbon accounting registry is clearly identified as one of the activities to be implemented during the Pilot and Testing stage of Ghana's R-PP process. To date, crucial activities which have implications for the establishment of a carbon registry are underway, including setting of baselines and putting in place an effective MRV system for determining levels of success.
In addition, seven pilot projects have been identified for implementation under the REDD+ readiness preparation process, which should provide an opportunity for field testing the yet-to-be-established registry at various stages of its development.