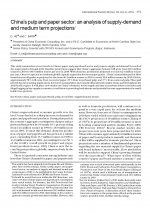 View Publication
This study summarizes recent trends in China's paper and paperboard sector and projects supply and demand for each of the major grades through 2010. Baseline projections suggest that China's aggregate demand will grow from 48.0 million
tonnes in 2003 to 68.5 million tonnes per year in 2010. With domestic production projected to reach 62.4 million tonnes per year, China is expected to dominate global capacity expansion for most major grades. China's annual demand for fibre
furnish across all grades is projected to rise from 40.2 million tonnes in 2003 to reach 59.6 million tonnes by 2010. Of this, approximately 58 % will come from recovered paper, 25 % from wood-based pulp, and 17 % from nonwood pulp. This rapid growth has far-reaching implications for forest sustainability and rural livelihoods both within China and throughout the Asia-Pacific region. It will place new strains on China's domestic wood supply and may exacerbate forest conversion and illegal logging in key supplier countries, in addition to providing both threats and potential income opportunities for smallholder
tree growers.