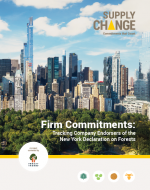 Tracking Company Endorsers of the New York Declaration on Forests
By Molly Peters-Stanley, Stephen Donofrio, Ben McCarthy, Dan Kandy - Forest Trends' Ecosystem Marketplace, Forest Trends' Ecosystem Marketplace, Forest Trends' Ecosystem Marketplace, Forest Trends' Ecosystem Marketplace
View Publication
At the 2014 United Nations Climate Summit, 180 governments, companies, indigenous community networks, and civil society organizations signaled their commitment to ending deforestation by endorsing the New York Declaration on Forests, which set a goal to halve natural forest loss by 2020 and end it by 2030. Fast forward one year, and many of the Declaration's endorsing companies are already taking concrete action to reduce their contribution to global deforestation and work toward achieving sustainable supply chains.
These commitments are the focus of the most recent report of Forest Trends' Supply Changeproject. The report, Firm Commitments: Tracking Company Endorsers of the New York Declaration on Forests, looks at public sustainability disclosures from 41 companies that endorsed the Declaration. Among all endorsers, actions by the private sector are considered especially critical to the Declaration's ambitions because these businesses are deeply dependent on the "big four" commodities responsible for most agriculture-driven deforestation – palm oil, soy, cattle, and timber and pulp.
In this first-ever assessment of endorsers companies' progress toward Declaration goals, Firm Commitments tackles important questions such as, "How have companies taken action to meet these targets – both before and after endorsing the Declaration? What do the endorser companies look like and what qualities do they have in common? How many companies are publicly disclosing their progress and what can these early disclosures tell decision-makers about the private sector's information gaps and implementation needs?"
Download the Press Release          |        Download the Report
Firm Commitments was released at Climate Week NYC in September 2015. Media coverage of the report and the two official launch events can be found below.
Media Coverage
One year after New York Declaration on Forests, less progress on cattle and soy than on palm oil and timber – Mongabay
Removing deforestation from supply chains makes business sense, says new report 
– The Climate Group
How to stop deforestation? Make 'good stuff' cheaper
– Reuters
Deforestation Should Be at Heart of Climate Discussion, Says NGO Panel
– The Epoch Times
Study Sees Environmental Progress in Palm Oil, Lag in Soy And Cattle
– Ecosystem Marketplace
M&S Sustainability Boss to Peers: "No body's Perfect; Come Clean on Your Progress"
– The Huffington Post / Ecosystem Marketplace
Report Report: Climate Week NYC 2015 edition
– GreenBiz
What companies have done one year after the New York Declaration on Forests
– LifeGate [Italian]
Most M&S Wood is Sustainably Sourced 
– Green Retail Decisions
The New York Declaration on Forests: One Year of Business Progress and the Pathway to Paris
– Storify
UN declaration drives private sector action on sustainable supply chains
– The Climate Group
One Year After New York Declaration on Forests, Report Identifies Companies Taking Action
– Sustainable Brands