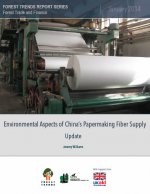 By Jeremy Williams - ArborVitae Environmental Services Ltd.
View Publication
In 2007, Forest Trends commissioned Brian Stafford of Brian Stafford & Associates Pty Ltd to provide an analysis of China's paper making industry's fiber supply. At that time, China accounted for over 50 percent of the world's overall growth in paper
and paperboard production. It was deemed important to understand the structure of all of China's papermaking inputs: virgin pulp, pulpwood, and wastepaper — both domestic and imported – and to evaluate the potential risk that these fibers
were being sourced from unsustainable or illegal harvesting operations. Between 2007 when the first paper was commissioned and 2013, the Chinese papermaking industry continued to expand
and modernize rapidly. Numerous international campaigns, focusing on media and toy giants such as Disney and Mattel, as well as new technology to identify fiber sources, had caused a chance in the purchasing policies of many important retailers
in Europe and the US – many of which had based their manufacturing processes in China. In late 2013, Forest Trends
commissioned Jeremy Williams of the University of British Columbia to update the figures and charts created in the original publication, to see whether the sourcing of China's paper industry had significantly changed, and what that might imply in
terms of risk of illegal or unsustainable sourcing.
As in 2007, the greatest challenge to ensuring the sustainability of China's fiber supply (as well as its exports to the environmentally sensitive markets in Europe and the US) will continue to ensure that the pulp and pulpwood imports from certain high risk countries can be verified as having come from sustainable and legal harvesting operations.