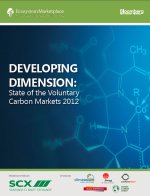 Developing Dimension
By Molly Peters-Stanley, Katherine E. Hamilton
View Publication
The 6th State of the Voluntary Carbon Markets report shows a significant increase in demand from buyers in the US and major changes in the mix of offsets capturing market share, such as record sales of offsets from Asian wind farms and the coming-of-age of clean development projects in Africa.
Read the Executive Summary HERE.
Read the Spanish version of the report HERE.