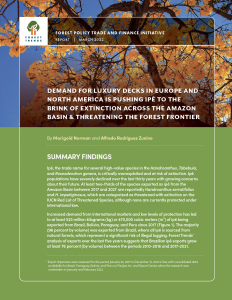 By Marigold Norman and Alfredo Rodriguez Zunino
View Publication
"Ipê," the trade name for several high-value species in the Handroanthus, Tabebuia, and Roseodendron genera, is critically overexploited and at risk of extinction. Predominantly used in exterior decking and flooring, 85% of the demand for ipê comes from American, Canadian, and European markets. Over the last 30 years, ipê populations have severely declined, with at least two thirds of the species exported as "ipê" from the Amazon Basin between 2017 and 2021 declared as "threatened with extinction," according to the IUCN Red List of Threatened Species, although none are currently protected under international law.
With soaring demand and unsustainable harvesting, there are opportunities to increase protections for ipê and ramp up enforcement capacity in the Amazon basin to address fraud and corruption, which facilitates the laundering of illegal timber into supply chains.
In this report, we examine the current situation and make recommendations, ranging from calling on the governments in the region to invest in collecting data on species populations and compositions through national forest inventories, to implementing robust timber tracking or traceability systems to promote transparency in timber supply chains, as well as listing all species of timber traded as "ipê" in the Convention on Trade in Endangered species (CITES).