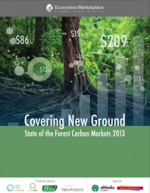 Covering New Ground
By Forest Trends' Ecosystem Marketplace
View Publication
Carbon finance is supporting the management of forests spanning 26.5 million hectares worldwide after businesses in 2012 injected a near-record $216 million into projects that plant trees, avoid deforestation, improve forest management, and support low-carbon agriculture.
These projects, a key defense against the ecological and socio-economic impacts of climate change, were financed by the sale of 28 million tonnes of carbon offsets, according to the 2013 State of the Forest Carbon Markets report released by non-profit researchers Forest Trends' Ecosystem Marketplace this week in London.
Representing 162 projects in 58 countries, the report tracks forest carbon management over a land area larger than Ecuador. While market size grew 9% in 2012, the global average price for forestry offsets was $7.8/tonne – down from $9.2/tonne in 2011, but still higher than prices paid by voluntary buyers across all offset project types (average $5.9/tonne).
MATERIALS
Press Release
Executive Summary
Full Report
English
Covering New Ground State of the Forest Carbon Markets 2013:Executive Summary

Cubriendo Nuevos Suelos El Estado de los Mercados de Carbono Forestal 2013: Resumen Ejecutivo

Covering New Ground State of the Forest Carbon Markets 2013:Full Report
ADDITIONAL DOCUMENTS
IN THE MEDIA
Dependent Documents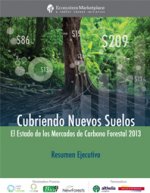 By Forest Trends' Ecosystem Marketplace