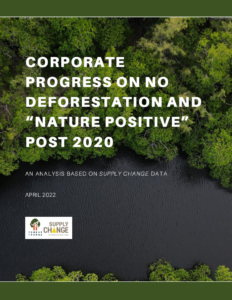 By Philip Rothrock, Kate Ellis, Laura Weatherer
View Publication
Despite corporate efforts to increase sustainable land-use practices in recent years, the production of forest–risk commodities remains a significant driver of global deforestation and climate change. While many companies have fallen short of achieving ambitious commitments to address commodity-driven deforestation, efforts to align with ambitious 2030 global climate targets have been gaining momentum. Encouragingly, companies, governments, and financial institutions are revitalizing efforts to scale up sustainability, with the knowledge that complex supply chains and a wide range of actors remain key challenges.  Over the next decade, investor access to up-to-date corporate forest and climate risk mitigation strategies will be critical for securing long-term investments, which can send the strong market signals needed to achieve transformational change.  
This first installment of a two-part report explores companies' commitments and policies, how they have shifted since 2020, and how far companies are from achieving them (based on publicly available information collected by SC researchers between August and December 2021). In this installment, SC will examine company commitments and policies. The second installment will explore commitment implementation and progress towards no-deforestation goals.  
To understand how corporate commitments are evolving in a post-2020 landscape, SC evaluated 125 prominent consumer-facing retailers, manufacturers, and traders who source forest-risk commodities from the tropics. The selection of companies represents some of the largest brands with global operations. These companies account for over $4 trillion USD in global sales, make up approximately 60 percent of the holdings in the Consumer Discretionary sector, and encompass up to 70 percent of the holdings in the Consumer Staples sector listed in the S&P 500.