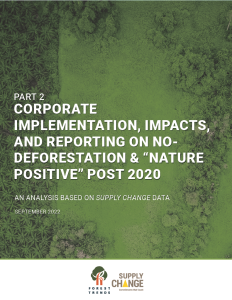 View Publication
Companies are setting stronger, more wide-reaching commitments to address commodity-driven deforestation, but greater transparency and more consistent reporting are needed across all stages of the value chain to achieve these commitments, and deliver meaningful positive impacts on forests and other natural ecosystems. In the second part of this two-part series on the findings of Supply Change's 2021 company research and analysis, Supply Change builds on its previous findings to assess trends in the approaches used by companies to implement and disclose progress on their commitments.
Trends discussed include companies' approaches to monitoring, traceability, risk management, supplier engagement, progress reporting, and GHG emissions reporting. This report highlights the implications of these trends and where there are opportunities for investors to encourage companies in their portfolios to adopt best practices for effective implementation and reporting. Although uptake of best practices has increased in recent years, varied methodologies, gaps in commitment coverage, and ongoing supply chain complexities from the COVID-19 pandemic and other global events, have continued to undermine overall progress.
This report demonstrates that above all, urgent action is needed to overcome persistent barriers to drive progress in fulfilling corporate sustainability commitments in forest-risk supply chains. Both companies and investors will have a pivotal role in the next five years in driving transformational change towards eliminating commodity-driven deforestation, reducing greenhouse gas emissions, and protecting human rights throughout their supply chains.