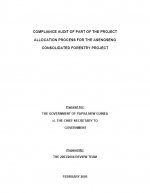 View Publication
This audit examines whether the project allocation process for the Asengseng
Consolidated forestry project complies with the requirements of Government as set out in the
National Forest Policy 1991, the Forestry Act 1991 and it's Regulations, the relevant
environmental legislation, and other regulations and guidelines. The 2000/2001 Review
of forestry projects "in process" examined compliance with these guidelines until the stage "Project Guidelines being developed". The current audit examines compliance with the next stage – from "Project Guidelines being developed" to the "negotiated Project Agreement being presented to the Board for execution". It also examines the degree to which the recommendations for remedial
action made by the 2000/2001 Review Team and endorsed by the National Executive Council (NEC) have been implemented by the relevant Government agencies (in particular the National Forest Service (NFS) and the Department of Environment and Conservation (DEC)).